DIAGNOSTIC DILEMMAS OF INFANTILE SARCOMA OF THE FOREARM
---
Autoři: A. Sukop 1; J. Mališ 2; M. Tvrdek 1; P. Hýža 3; M. Haas 1; M. Kynčl 4; R. Kodet 5
Působiště autorů: Department of Plastic Surgery, University Hospital Královské Vinohrady, Charles University Prague 1; Department of Pediatric Hematology and Oncology, University Hospital Motol 2; Charles University Prague, nd Medical Faculty, Prague 2; nd Medical Faculty, Prague, and 2; nd Medical Faculty, Prague, Czech Republic 2; rd Medical Faculty, Prague 3; Department of Plastic and Aesthetic Surgery, St. Anne University Hospital Brno, Brno 3; Clinic of Imaging Methods, University Hospital Motol, Charles University Prague 4; Clinic of Pathology, University Hospital Motol, Charles University Prague 5
Vyšlo v časopise: ACTA CHIRURGIAE PLASTICAE, 52, 1, 2010, pp. 19-21

INTRODUCTION
Soft tissue tumours are rare, representing 1% of adult malignancies and 7–8% of paediatric malignancies (1). In newborns and infants these tumours are more commonly seen in benign form (2).
Despite the use of radical surgery, up to 20% of patients develop recurrent disease, which carries a worse prognosis (3). For low-grade tumours, surgery alone is the treatment of choice. 
CASE REPORT
A 7-month-old girl had an enlarging mass of the left forearm which appeared at the age of two months. Ultrasound (US) examination diagnosed organizing haematoma, 28 x 20 x 17 mm. Plain x-rays showed no pathological changes of the skeletal system. Four months later, US examination revealed a richly vascularized, 40 x 27 x 17 mm mass, and the tumour was suspected to be a combination of haemangioma and haematoma (4). At the age of 5 months MRI revealed a lobulated formation measuring 52 x 33 x 25 mm located along the forearm muscles (5) (Fig. 1). The growth involved the ulnar neurovascular bundle.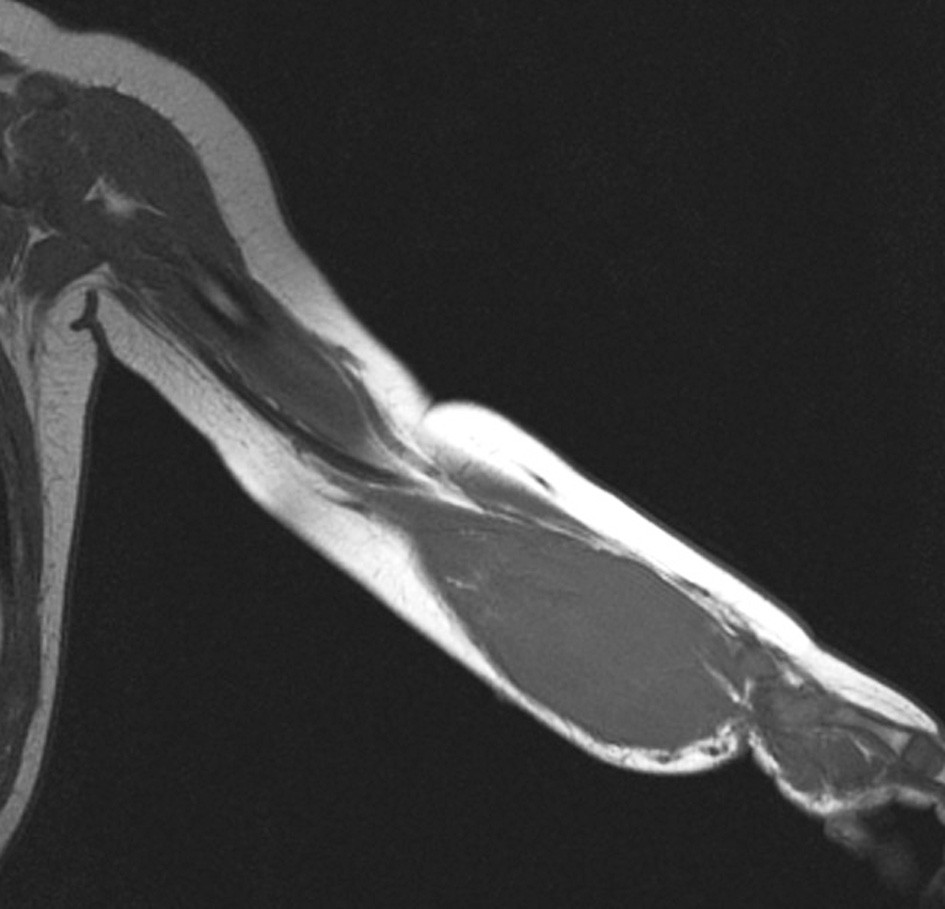 The growth pattern of the tumour was described as expansive, well circumscribed, and non-infiltrative. At 6 months of age digital angiography was performed (Fig. 2), revealing an extensive and expansive growth of the left forearm with rich vascularization via ulnar and interosseal arteries. The radial artery was slightly shifted and compressed by the growth; however, its participation in vascular supply to the tumour was minimal. An abnormally strong acoustic effect was found with Doppler US examination, a finding expected due to the rapid arterial and venous blood flow seen in the lesion (Fig. 3). Between six and seven months of age, the mass grew so rapidly that the infant stopped using her left arm completely. Her fingers were in a permanent flexed position; on examination, the fingers could be passively extended only partially. The dorsal hand and the entire forearm were swollen without reaction to application of a compression bandage.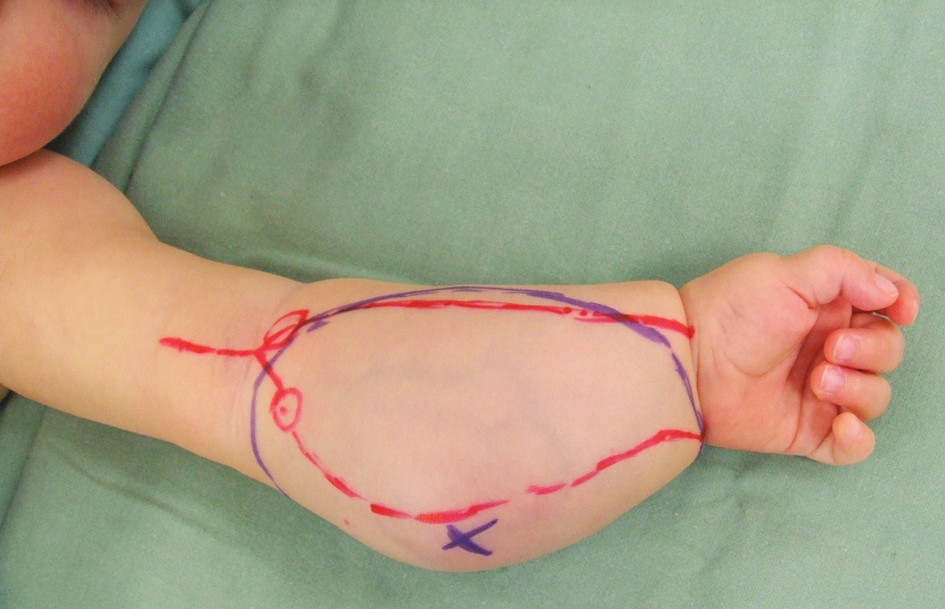 The vascular supply of the digits showed colour changes consistent with vasospasms, which were present not only during activity but also at rest. These vasospasms awoke the patient from sleep, likely due to pain secondary to digital ischemia.
The infant was scheduled for surgery at eight months of age. Surgery was performed anteriorly using an S incision from the wrist to the cubital fossa. There was a dilated venous system in the hypodermis. Instead of finding the expected haemangioma, we encountered a solid tumour with the appearance of fatty tissue and a rich vascular supply; the tumour had the appearance of a lipoma (6). The tumour was mechanically oppressing the bellies of the flexor muscles, resulting in the flexed position of the fingers. The tumour was traversed by the ulnar artery and nerve (Fig. 4). The ulnar artery gave off multiple branches to the tumour and was dislocated medially and superficially. Both median nerve and radial artery were pushed inferiorly but did not traverse the tumour itself. We firmly cut free the ulnar nerve. Due to the highly branched pattern and location of the ulnar artery within the tumor without continuity to the periphery, it was not practical to cut it free from the mass safely. Instead, the artery was resected, together with the tumour, and ligated proximally in the area of cubital branching and distally at the wrist. The tumour was radically resected with its coverings and surrounding fascia, including a functionally insignificant thin layer of muscular fibres. After tourniquet release, blood circulation was re-established via the radial artery; it was not necessary to reconstruct the ulnar artery (Fig. 5). The specimen was sent for histological examination (Fig. 6). The child was fully healed on the 12th day postoperatively.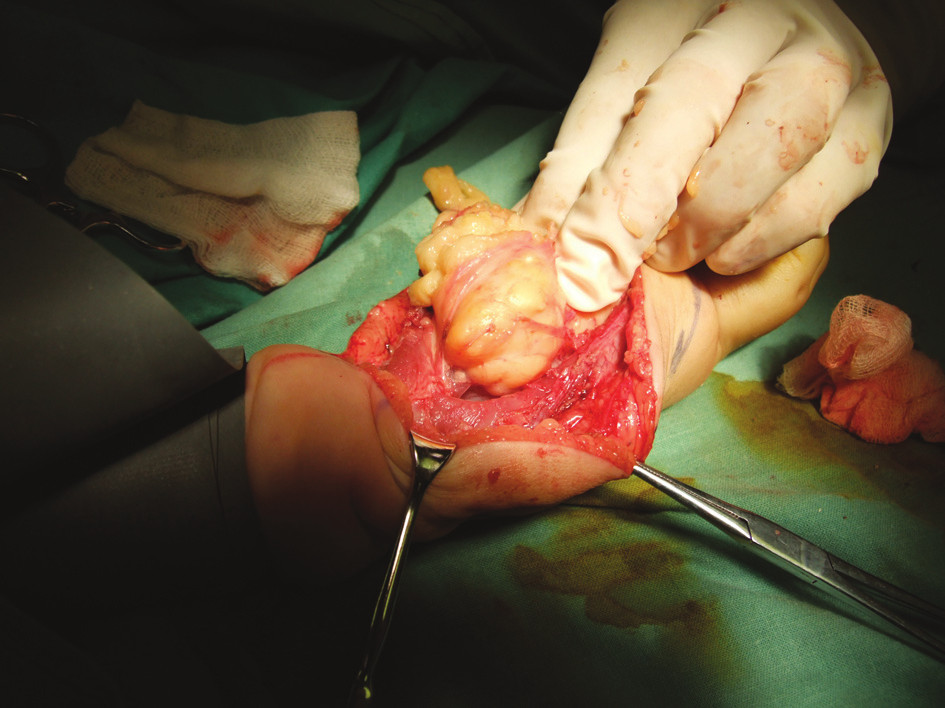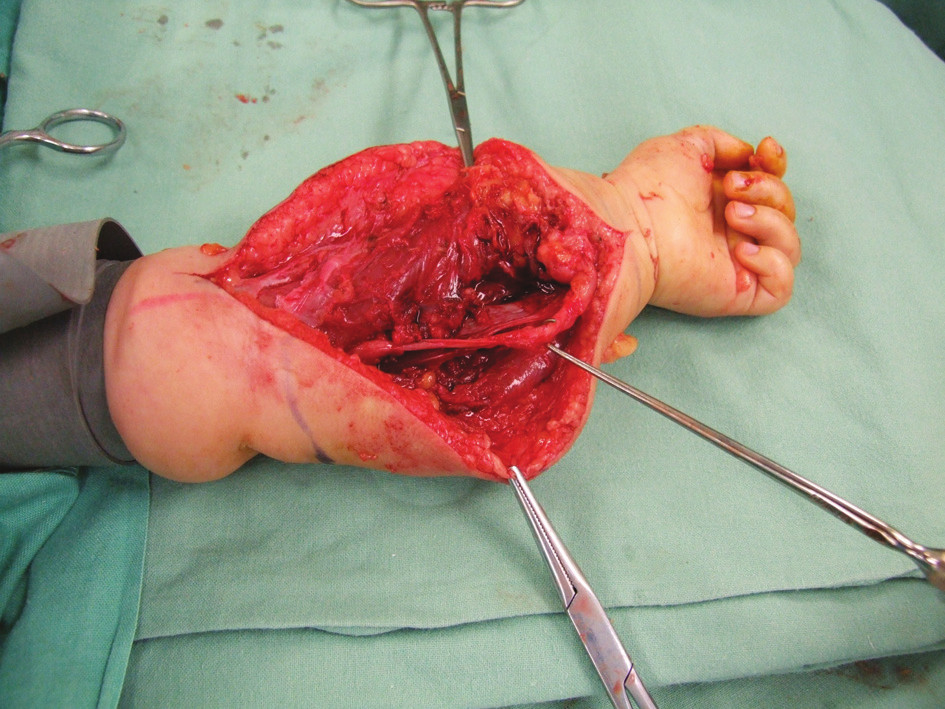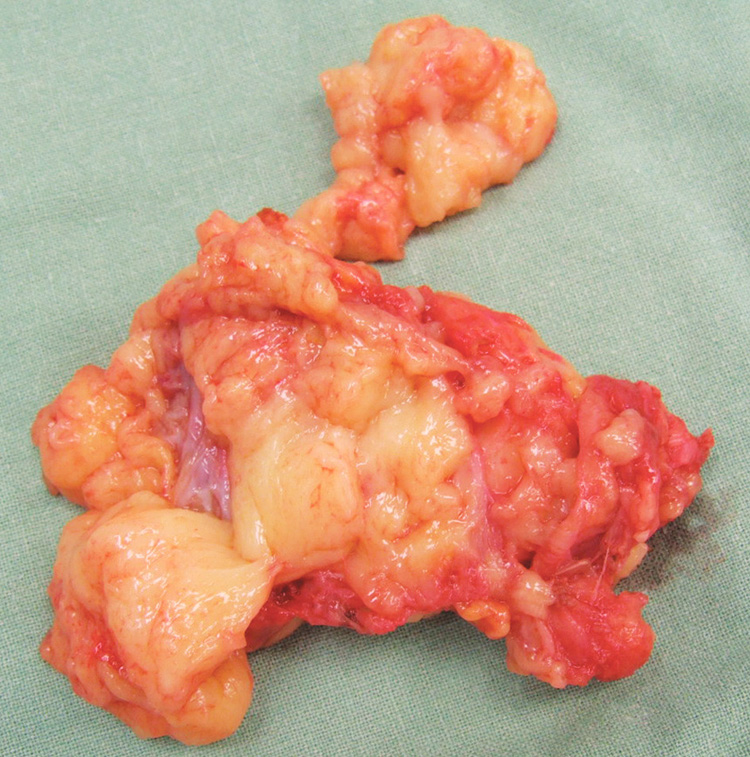 RESULTS
Postoperative wound healing was uneventful. Three weeks postoperatively the child could flex and extend the fingers spontaneously; two months later she was using her left hand in satisfactory manner (Fig. 7). Histopathological analysis revealed a diagnosis of infantile fibrosarcoma. The presence of the fusion gene ETV6/NTRK3 was detected, which is typical for infantile fibrosarcoma (7, 8).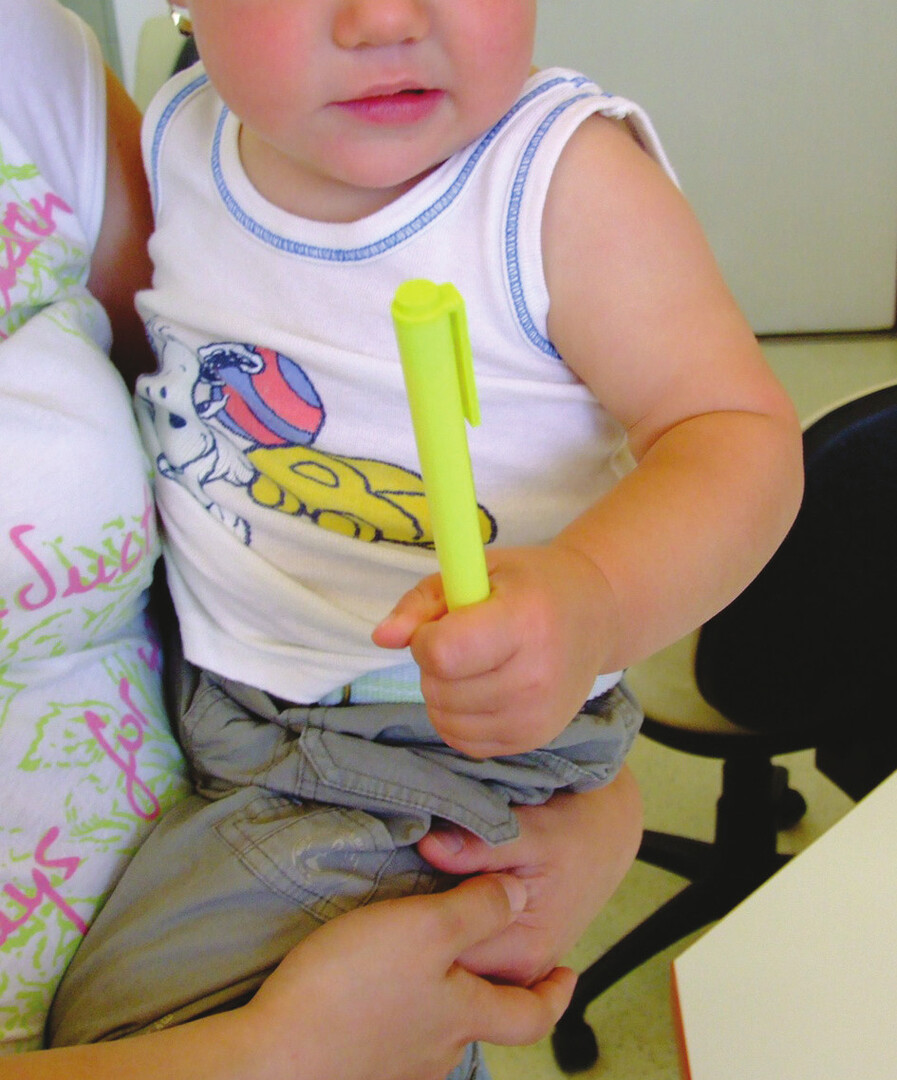 DISCUSSION
The initial diagnosis of haematoma was supported by the history of compression of the left forearm during delivery and long-term use of low-molecular weight heparin by the mother in a high-risk pregnancy due to the presence of Leiden's mutation. The diagnosis of infantile fibrosarcoma can be determined preoperatively with a punch or core needle biopsy. In the present case, biopsy was not performed due to the high risk of injury to nerves, arteries, or tendons, and risk of bleeding from a suspected haemangioma. 
CONCLUSION
Despite the availability of excellent, precise, non-invasive or invasive methods of patient evaluation, it is not absolutely necessary to for there to be consensus between the surgical and histological findings. When there is doubt concerning the origin of the tumour it should not be forgotten that early radical resection of malign tumour in children results in a much more favourable prognosis (9, 10).  
Addres for correspondence:
Andrej Sukop, M.D., Ph.D.
Department of Plastic Surgery
University Hospital Královské Vinohrady
Šrobárová 50
100 34   Prague 10
Czech Republic
E-mail: andrej.sukop@centrum.cz
---
Zdroje
1. Kuschner SH., Menendez LR., Stephens S., Gellman H. Malignant tumors of the upper extremity in children. Orthop. Rev., 19, 1990, p. 411-417.
2. Al-Qattan MM., Al-Lazzam AM., Al Thunayan A., Al Namlah A., Mahmoud S., Hashem F., Tulbah A. Classification of benign fatty tumours of the upper limb. Hand Surg., 10, 2005, p. 43-59.
3. Spunt SL., Poquette CA., Hurt YS. et al. Prognostic factors for children and adolescents with surgically resected nonrhabdomyosarcoma soft tissue sarcoma: an analysis of 121 patients treated at St Jude Children's Research Hospital. J. Clin. Oncol., 17, 1999, p. 3697-3705.
4. Beham A., Fletcher CD. Intramuscular angioma: a clinicopathological analysis of 74 cases. Histopathology, 18, 1991, p. 53-59.
5. Reiseter T., Nordshus T., Borthne A., Roald B., Naess P., Schistad O. Lipoblastoma: MRI appearances of a rare paediatric soft tissue tumour. Pediatr. Radiol., 29, 1999, p. 542-545.
6. Stringel G., Shandling B., Mancer K., Ein SH. Lipoblastoma in infants and children. J. Pediatr. Surg., 17, 1982, p. 277-280.
7. Marcus KC., Grier HE., Shamberger RC. et al. Childhood soft tissue sarcoma: a 20-year experience. J. Pediatr., 131, 1997, p. 603-607.
8. Dillon P., Maurer H., Jenkins J. et al. A prospective study of nonrhabdomyosarcoma soft tissue sarcomas in the pediatric age group. J. Pediatr. Surg., 27, 1992, p. 241-244.
9. Pritchard DJ., Soule EH., Taylor WF. et al. Fibrosarcoma: clinicopathologic and statistical study of 199 tumors of the soft tissues of the extremities and trunk. Cancer, 33, 1974, p. 888-897.
10. Skene AI., Barr L., Robinson M. et al. Adult type (nonembryonal) soft tissue sarcomas in childhood. Med. Pediatr. Oncol., 21, 1993, p. 645-648.
Štítky
Chirurgie plastická
Ortopedie
Popáleninová medicína
Traumatologie
---
Článek vyšel v časopise
Acta chirurgiae plasticae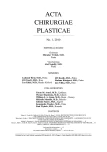 ---
Nejčtenější v tomto čísle
Tomuto tématu se dále věnují…
---
Kurzy
Zvyšte si kvalifikaci online z pohodlí domova
---
---
---
---
---
Všechny kurzy