Medicolegal aspects of atypical firearm injuries: a case report
---
Soudnělékařský pohled na atypická střelná poranění – popis případu
Všichni lékaři, kteří se ve své praxi setkávají se střelnými poraněními, musí mít znalosti týkající se vlastností střelné rány. Pro soudní lékaře jsou významné zejména otázky týkající se vzdálenosti střelby. Z tohoto důvodu je kladen důraz zejména na pečlivé a opatrné zkoumání vstřelu a jeho okolí. Aby tyto případy mohly být správně posouzeny pro právní účely, je nutná detailní soudní pitva. Počet, lokalizace a vlastnosti jednotlivých vstřelů a výstřelů musí být pečlivě popsány. Nesmí být vynechán žádný detail a je třeba mít na paměti, že tyto léze nejsou vždycky typické. Někdy stav pacienta se střelným poraněním vyžaduje okamžitou lékařskou péči, nebo dokonce operaci. A právě lékařským zásahem může poranění ztratit svoje charakteristické vlastnosti. Náš případ ukazuje muže stáří 28 let poraněného ve výcvikovém prostoru během vojenské služby z pěchotní pušky G3, který následně během hospitalizace zemřel. Zevní prohlídka ukázala atypický vstřel na levé straně sterna průměru 4,5 cm, obklopený šesti nepravidelnými spáleninami způsobenými tlumičem výšlehu plamene. Výstřel průměru 0,7 cm byl lokalizován v 7. mezižebří v levé čáře medioskapulární. Při vlastní pitvě byly nalezeny fraktury žeber a kontuze a trhliny plic. Ve spodině pod vstřelem byla svalovina imbibovaná sazemi. Náš případ ukazuje, že je nezbytné pečlivě posuzovat otvor vstřelu nejenom soudnělékařskými specialisty, ale i ostatními lékaři. Pro zdárný průběh dalších právních kroků musí být (nejenom atypická) střelná poranění popisována a dokumentována ještě před léčebným zásahem chirurga.

Klíčová slova:
střelné poranění – pitva
---
Authors: Murat Serdar Gürses 1; Okan Akan 2; Bülent Eren 2; Dilek Durak 1,2; Nursel Türkmen 1,2; Selçuk Çetin 1
Authors place of work: Department of Forensic Medicine, Uludag University Medical School, Bursa, Turkey 1; Bursa Branch of the Council of Forensic Medicine of the Ministry of Justice, Turkey. 2
Published in the journal: Soud Lék., 59, 2014, No. 1, p. 10-12
Category: Původní práce

Summary
Our case was a twenty year-old man, who was injured during the military duty with G3 infantry rifle in the training area. An atypical firearm entry wound on the left side of sternum which was 4.5 cm in diameter, and was surrounded by six irregular skin burn wounds by a flash-suppressor and a 0.7 cm diameter firearm exit wound at space on the left midscapular line. Our case emphasizes that the interpretation of properties of these atypical firearm entry wounds need to be carefully assessed by physicians.

Keywords:
firearm injury – autopsy
---
Examination of the firearm wounds is an important issue in forensic medicine. The revelation of characteristics of the firearm wounds is not always easy. The firearm entrance wounds can exhibit atypical appearance depending on several factors including the type of firearm and ammunition, the body region that entrance wound located, the presence of intermediate target, mounting external apparatus to the barrel and the velocity of bullet (1). All of these factors can affect appearance of the firearm entrance wound and may cause an atypical presentation. Therefore, a forensic medicine specialist must consider all of these factors when examining a firearm wound and making a distinguishing between the entrance and exit wounds and also estimating the shot distance. For this reason, firearm entry wounds and lesions around the wound need to be examined carefully. We presented an interesting autopsy case with an atypical firearm entry wound due to flash suppressor and aimed to discuss this case light of the recent literature.
CASE REPORT
Our case is a 20 year-old male who was injured by a G3 infantry rifle in an education field during his military duty. Prosecution records revealed that he died after a few hours of arrival to hospital. At autopsy, the external examination showed ecchymotic injection marks on both antecubital regions, dorsum of hand, inguinal and right subclavicular regions and a thoracotomy wound on the left midaxillary line. The firearm entry wound was observed on the left pectoral region which was sutured with 3 pieces of suture material on a 4.5 cm transverse line (Figure 1). The entrance wound was surrounded by six flame shaped burning skin lesions. The exit wound located on the below of inferior margin of left scapulae, had a 0.7 cm diameter (Figure 2). The internal examination revealed extensive ecchymosis on the left side of thoracic subcutaneous tissues, a defect area 5.5x3 cm in size that on the left midclavicular line between the 3rd and 5th ribs, fractures of the 4th and 5th ribs, a firearm exit wound on the left posterior thoracic wall between the 7th and 8th ribs, and nearly 700 cc of blood in the left thoracic cavity. A black soot mark was seen on the anterior surface of left 4th rib. A large irregular laceration zone involving the upper and lower lobe of left lung was seen. Toxicological analysis revealed 81 ng/ml of midazolam in the blood and lidokain was detected in the urine. We diagnosed that the cause of death was left lung injury and internal hemorrhage due to firearm shot injury.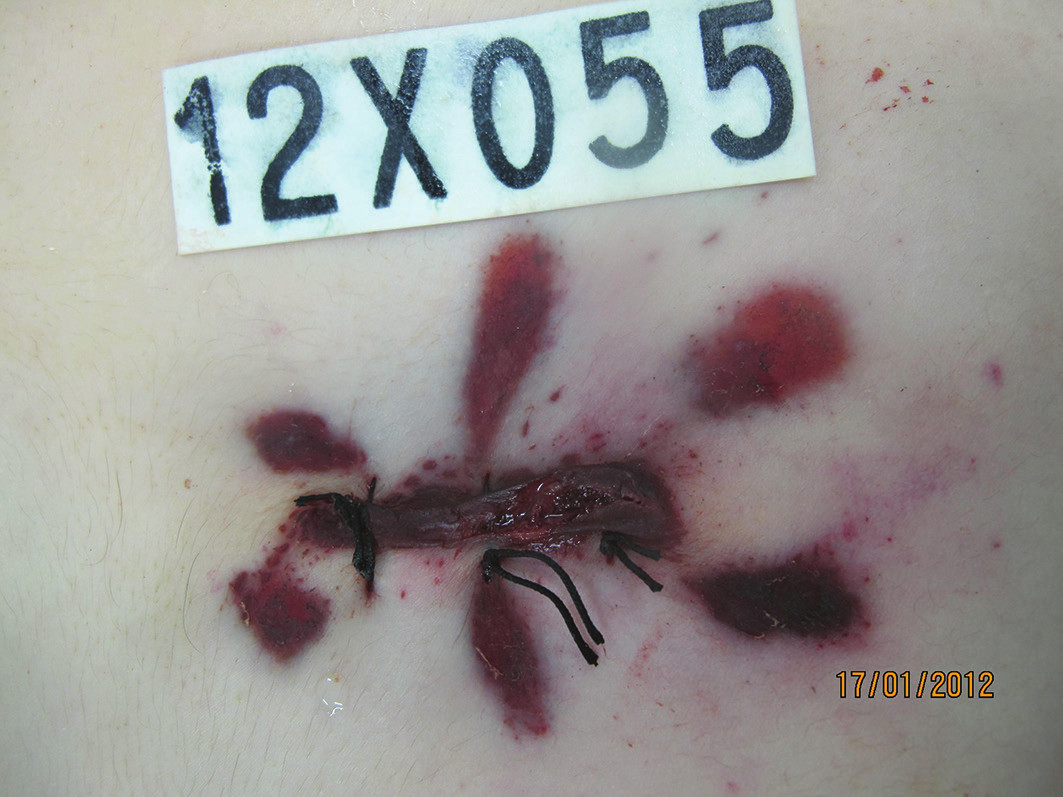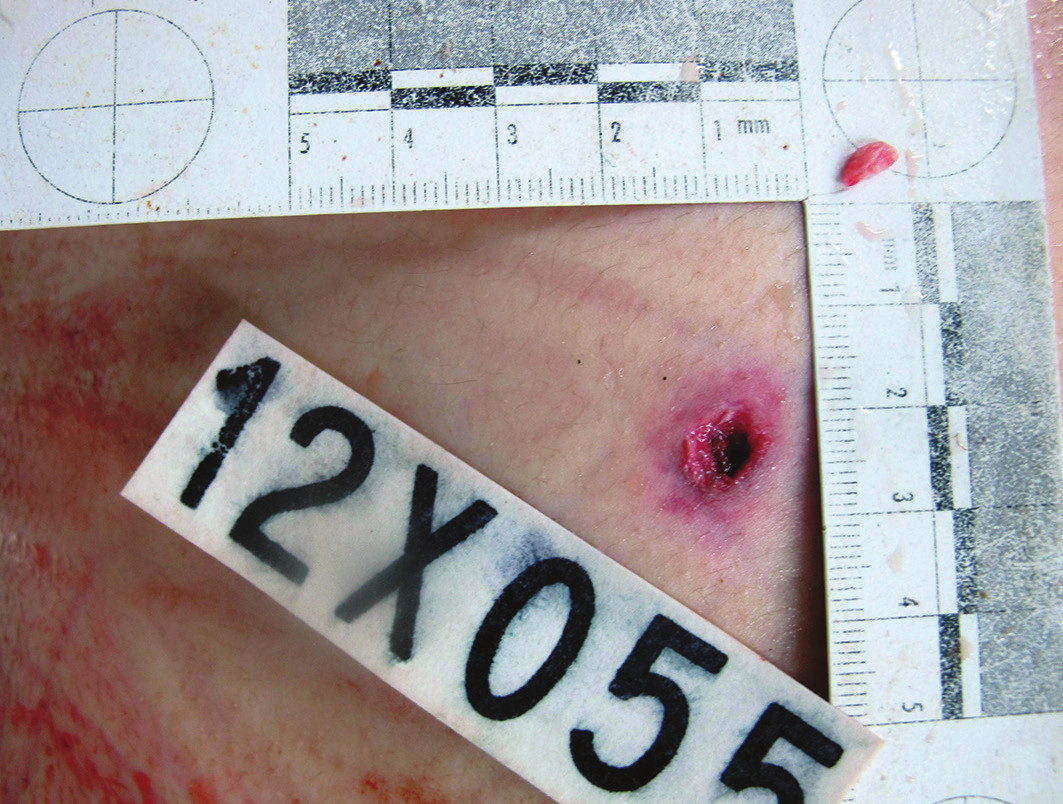 DISCUSSION AND CONCLUSION
In autopsy practice, firearm injuries need to an accurate evaluation because of the presence of many factors that can affect the presentation of entrance and exit firearm wounds. In this context, especially relevant professional groups and also physicians who attempt to therapeutic applications to these wounds before death and also autopsy, should have knowledge about the mechanism and legal aspects of firearm wounds (2-3). On the other hand, in these cases, a detailed autopsy is required for a reliable legal procedure. The evaluation of the firearm injuries is not always easy. Firearm entry wound characteristics can vary depending on type of weapon used, the type and amount of gunpowder, the entry zone and angle, the shot distance, the presence or absence of an intermediate target, and the bullet's kinetic energy (1-4). In addition, various apparatus such as flash suppressor and muffler attached to the end of the barrel may affect the appearance of the entry wound. The most common causes of an atypical entrance wound are bullet ricochet and interaction with an intermediate target (1). The presented case in this study had an atypical entrance wound due to flash-suppressor attached the muzzle. The entrance wound which was sutured with 3 pieces of suture material on a 4.5 cm transverse line, was surrounded by six flame shaped burning skin lesions. At first view, they remind of satellite lesions around the central entrance hole due to shotgun pellets. However, the detailed and careful evaluation showed that these satellite flame shaped lesions were created by burning due to flash-suppressor which is generally attached to muzzle in high velocity weapons used in the military field. We decided that the entrance wound was created with contact shot. Similar to our case, Perdekamp et al. reported an unusual case with atypical entrance wound due to contact shot to the forehead from infantry weapon (Kalschnikow AKMS 47 assault rifle) with a flash-suppressor (5). Molina et al. reported a case that had an atypical entrance wound on the back of head with a roughly rectangular defect surrounded by a circumferential abrasion rim formed due to barrel erosion which significantly impacted the dynamics of the bullets fired (1). One of the reasons that cause the atypical entrance wound is handmade weapons. In this respect, Hartshorne et al. defined an atypical entrance gunshot wound penetrating the mid-chest surrounded by a random pattern of obliquely oriented irregular abrasions due to the 0.25 caliber Winchester AXP ammunition that the hand-crafted pen gun fired (6). Because of the similarity of writing pen, transportation and concealment of pen guns are quite easy. In a study, frequencies and types of pen guns were described in Turkey and in total 32 cases and 61 pen guns were examined during a 5-year period (7). In addition, blank firing guns that produced and used for purposes of defense and frightening somebody, are also produce atypical bullet holes. Using of blank firing guns is common in Turkey due to the absence of legal sanction. Ikizceli et al reported a 3 year-old male who had an irregular entry wound with jugular vein injury and lung contusion occurred by a blank firing gun (8). Forensic medicine specialists should be aware that these types of guns are able to create atypical firearm wounds.The other types of penetrating trauma may also cause wounds resembling typical or atypical gunshot entry lesions. Paranitharan et al. reported a man found dead in front of his house with a penetrating trauma on the anterior chest wall similar to gunshot entrance wounds which was concluded to be caused by a rib fracture due to a fall down from height (9). On the other hand, one of the cause of atypical gunshot wounds is position and of the target when bullet hits it. As an example about this situation, Davis G et al. reported a case with atypical gunshot enterance wound resembled of a keyhole which was caused by a shotgun sabot slug which was fired while the shooter was in an auto with a high speed (10). Additionally, type of ammunition and powder also caused to atypical firearm wounds. Hejna P et al. presented a 39-year-old man who found dead in the bathroom as hanging by the neck with an atypical gunshot entrance in the right temporal region due to planned complex suicide, committed by a black powder muzzle loading handgun and hanging (11). Lidocaine and midazolam were detected by toxicological analysis and was concluded that these substances were used during the intensive care. No drugs or toxic substances that could have contributed to death were detected in blood or urine.
As far as we know, this is the first described case of death due to firearm injury with an atypical firearm entrance wound created by flash-suppressor in the English literature. In conclusion, atypical entrance wounds may cause diagnostic difficulties; therefore forensic specialists should evaluate them carefully.
Correspondence address:
Dr. Bülent Eren
Council of Forensic Medicine of Turkey Bursa Morgue Department
Heykel, Osmangazi 16010, Bursa, Turkey.
tel.: +90 224 222 03 47, fax: +90 224 225 51 70
e-mail: drbulenteren@gmail.com
---
Zdroje
1. Molina DK, Rulon JJ, Wallace EI. The atypical entrance wound: differential diagnosis and discussion of an unusual cause. Am J Forensic Med Pathol. 2012; 33(3): 250-252.
2. Çelikel A. The Effect of Barrel Length on Dispersion of Bullets and Importance on Determination of Shooting Range. Eskişehir Osmangazi University Faculty of Medicine, Medical Speciality Thesis in Deparment of Forensic Medicine; 2008.
3. Yılmaz A. Injuries from Gunshot Wounds. Journal of Union of Turkish Bar Associations, Issue 50, p. 167; 2004.
4. Çetin G., Yorulmaz C., Gunshot Wounds, Forensic Medicine, Volume 2, Ed: Soysal Z., Çakalır C., IU Faculty of Medicine. Publications, Istanbul, 1999. p. 570.
5. Perdekamp MG, Braunwarth R, Schmidt U, Schmidt W, Pollak S. Contact shot from infantry weapons with a flash-suppressor. Arch Kriminol. 2003; 212(1-2): 10-18.
6. Hartshorne NJ, Reay DT, Harruff RC. Accidental firearm fatality involving a hand-crafted pen gun. Case report. Am J Forensic Med Pathol. 1997; 18(1): 92-95.
7. Yilmaz R, Birincioğlu I, Uner HB, Günce E. Pen guns in Turkey. J Forensic Sci. 2007; 52(1): 116-118.
8. Ikizceli I, Avşaroğullari L, Sözüer EM, et al. Juguler vein gunshot injury from blank cartridges. Turkish Journal of Trauma and Emergency Surgery. 2005; 11(3): 254-257.
9. Paranitharan P, Parai JL, Pollanen MS. Pseudo-gunshot wound injury from perforating rib fracture: a cautionary case report. Forensic Sci Med Pathol. 2008; 4(2): 113-115.
10. Davis GJ. An atypical shotgun entrance wound caused by a sabot slug. All is not as it seems. Am J Forensic Med Pathol. 1993; 14(2): 162-164.
11. Hejna P, Šafr M, Zátopková L, Straka L. Complex suicide with black powder muzzle loading derringer. Forensic Sci Med Pathol. 2012; 8(3): 296-300.
Štítky
Patologie
Soudní lékařství
Toxikologie
---
Článek vyšel v časopise
Soudní lékařství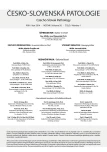 ---
Nejčtenější v tomto čísle
Tomuto tématu se dále věnují…
---
Kurzy
Zvyšte si kvalifikaci online z pohodlí domova
---
---
---
---
---
Všechny kurzy