Application of molecular diagnostics of cardiomyopathies in paediatric practice
---
Authors: L. Skutková 1; D. Humlová 1,2; J. Kadlecová 3
Authors' workplace: Pediatrická klinika LF MU a FN Brno 1; Centrum kardiovaskulární a transplantační chirurgie, Brno 2; Cytogenetická laboratoř Brno, s.  r.  o. 3
Published in: Kardiol Rev Int Med 2016, 18(4): 268-271

Overview
Inherited cardiomyopathies are one of the most common cardiovascular diseases. Recently, genetic examination has become part of the diagnostics of these conditions. More than 80 genes are known to be associated with cardiomyopathies and according to the latest research, their pathogenesis overlaps with channelopathies. The range of examined genes has been expanded using modern molecular genetic methods. Nowadays, there are 97 genes associated with cardiomyopathies analysed simultaneously in our laboratory. New sequencing methods extended the possibilities of molecular diagnostics of patients with cardiomyopathy as well as identification of pre-symptomatic individuals in families. Regular cardiologic check-ups are scheduled for both children with inherited suspicious variants and relatives of subjects without clear genetic foundation.

Keywords:
cardiomyopathy – molecular diagnostics – genetics – paediatrics
---
Sources
1. Cahill TJ, Ashrafian H, Watkins H. Genetic cardiomyopathies causing heart failure. Circ Res 2013; 113(6): 660– 675. doi: 10.1161/ CIRCRESAHA.113.300282.
2. Ashrafian H, Watkins H. Reviews of translational medicine and genomics in cardiovascular disease: new disease taxonomy and therapeutic implications cardiomyopathies: therapeutics based on molecular phenotype. J Am Coll Cardiol 2007; 49(12): 1251– 1264.
3. Tfelt-Hansen J, Winkel BG, Grunnet M et al. Cardiac channelopathies and sudden infant death syndrome. Cardiology 2011; 119(1): 21– 33. doi: 10.1159/ 000329047.
4. Ackerman MJ, Priori SG, Willems S et al. HRS/ EHRA expert consensus statement on the state of genetic testing for the channelopathies and cardiomyopathies this document was developed as a partnership between the Heart Rhythm Society (HRS) and the European Heart Rhythm Association (EHRA). Heart Rhythm 2011; 8(8): 1308– 1339.
5. Richards S, Aziz N, Bale S et al. Standards and guide­lines for the interpretation of sequence variants: a joint consensus recommendation of the American College of Medical Genetics and Genomics and the Association for Molecular Pathology. Genet Med 2015; 17(5): 405– 423. doi: 10.1038/ gim.2015.30.
6. Saj M, Bilinska ZT, Tarnowska A et al. LMNA mutations in Polish patients with dilated cardiomyopathy: prevalence, clinical characteristics, and in vitro studies. BMC Med Genet 2013; 14: 55. doi: 10.1186/ 1471-2350-14-55.
7. Małek ŁA, Labib S, Mazurkiewicz Ł. A new c1621 C > G, p.R541G lamin A/ C mutation in a family with DCM and regional wall motion abnormalities (akinesis/ dyskinesis): genotype- phenotype correlation. J Hum Genet 2011; 56(1): 83– 86. doi: 10.1038/ jhg.2010.137.
Labels
Paediatric cardiology
Cardiac surgery
Cardiology
---
Article was published in
Cardiology Review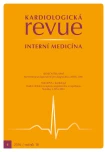 ---
Most read in this issue
This topic is also in:
---