Non-celiac gluten sensitivity
---
Authors: Michal Šenkyřík ; Jitka Prokešová
Authors' workplace: Interní gastroenterologická klinika LF MU a FN Brno, pracoviště Bohunice, přednosta prof. MUDr. Aleš Hep, CSc.
Published in: Vnitř Lék 2015; 61(3): 195-196
Category: Editorial

---
Sources
1. Shepherd SJ, Gibson PR. Fructose malabsorption and symptoms of irritable bowel syndrome: guidelines for effective dietary management. J Am Diet Assoc 2006; 106(10):1631–1639.
2. Shepherd SJ, Parker FC, Muir JG et al. Dietary triggers of abdominal symptoms in patients with irritable bowel syndrome: randomized placebo-controlled evidence. Clin Gastroenterol Hepatol 2008; 6(7): 765–771.
3. Gibson PR, Shepherd SJ. Evidence-based dietary management of functional gastrointestinal symptoms: The FODMAP approach. J Gastroenterol Hepatol 2010; 25(2): 252–258.
4. Staudacher HM, Irving PM Lomer MC et al. Mechanisms and efficacy of dietary FODMAP restriction in IBS. Rev Gastroenterol Hepatol 2014; 11(4): 256–266.
5. Vazquez-Roque MI, Camilleri M, Smyrk T et al. A controlled trial of gluten-free diet in patients with irritable bowel syndrome-diarrhea: effects on bowel frequency and intestinal function. Gastroenterology 2013; 144(5): 903–911.
6. Halmos EA, Power VA, Sheperd SJ et al. A diet low in FODMAPs reduces symptoms of irritable bowel syndrome. Gastroenterology 2014; 146(1): 67–75.
7. Saha I. Irritable bowel syndrome: Pathogenesis, diagnosis, treatment, and evidence-based medicine. World J Gastroenterol 2014; 20(22): 6759–6773.
8. Hou JK, Lee D, Lewisk J. Diet and Inflammatory Bowel Disease: Review of Patient-Targeted Recommendations. Clin Gastroenterol Hepatol 2014; 12(10): 1592–1600.
Labels
Diabetology
Endocrinology
Internal medicine
---
Article was published in
Internal Medicine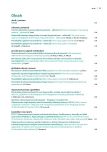 ---
Most read in this issue
This topic is also in:
---