Failed home breech vaginal delivery of hydrocephalic fetus and it's consequences
---
Authors: O. Šimetka
Authors' workplace: Porodnicko-gynekologická klinika, FN Ostrava, přednosta MUDr. O. Šimetka
Published in: Čes. Gynek.2008, 73, č. 4 s. 260-262

Overview
Case from Sri Lanka describes a chain of catastrophic complications in a patient whose main problem – a hydrocephalic fetus with macrocephaly in breech presentation, was not diagnosed during antenatal care. The delivery was taking place at home up to shoulders and arms, the head was not delivered. The patient with threatening uterine rupture was transferred to District Hospital and seen by doctor 10 hours later. Destructive operation of hydrocephalic head was performed, the procedure was accompanied by rupture of uterus and followed by cardiac arrest. The patient was resuscitated and hysterectomy with bilateral salpingoophorectomy was performed, the procedure was complicated by disseminated intravascular coagulopathy. The patient survived, 5th postoperative day was treated for malaria and was discharged eight days after operation.

Key words:
hydrocephalus, breech presentation, destructive operation, uterine rupture.
---
Sources
1. Čech, E., Hájek, Z., Maršál, K., et al. Porodnictví. Praha: Avicenum, 1999, 168 s.
2. Šípek, A., Gregor, V., Horáček, J., Mašátová, D. Vrozený hydrocefalus v období 1961-2000 – výskyt, prenatální diagnostika a prevalence podle věku matky. Čes Gynek, 1998, 67, 6, s. 360-364.
Labels
Paediatric gynaecology
Gynaecology and obstetrics
Reproduction medicine
---
Article was published in
Czech Gynaecology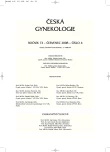 ---
Most read in this issue
This topic is also in:
---