Sentinel biopsy, a short outline – editorial
---
Authors: Vuk Fait 1,2
Authors' workplace: Oddělení chirurgické onkologie MOÚ Brno, přednosta prim. MUDr. Zdeněk Eber 1; Tým pro nádory kůže a melanom MOÚ Brno, vedoucí týmu doc. MUDr. Vuk Fait, CSc. 2
Published in: Vnitř Lék 2014; 60(5-6): 415-416
Category: Editorial

---
Sources
1. Gould EA, Winship T, Philbin PH et al. Observations on a "sentinel node" in cancer of the parotid. Cancer 1960; 13: 77–78.
2. Cabanas RM. An approach for the treatment of penile carcinoma. Cancer 1977; 39(2): 456–466.
3. Morton DL, Wen DR, Wong JH et al. Technical details of intraoperative lymphatic mapping for early stage melanoma. Arch Surg 1992; 127(4): 392–399.
4. Alex JC, Krag DN. Gamma-probe guided localization of lymph nodes. Surg Oncol 1993; 2(3): 137–143.
5. Giuliano AE, Kirgan DM, Guenther JM et al. Lymphatic mapping and sentinel lymphadenectomy for breast cancer. Ann Surg 1994; 220(3): 391–398.
6. Coufal O, Pavlík T, Fabian P et al. Predicting non-sentinel lymph node status after positive sentinel biopsy in breast cancer: what model performs the best in a Czech population? Pathol Oncol Res 2009; 15(4): 733–740.
7. Lyman GH, Temin S, Edge SB et al. Sentinel lymph node biopsy for patients with early-stage breast cancer: American society of clinical oncology clinical practice guideline update. J Clin Oncol. 2014; 32(13): 1365–1383.
8. Šefr R, Coufal O, Penka I et al. Metoda lymfatického mapování a biopsie sentinelové uzliny u karcinomu tračníku. Klin onkol 2005; 18(6): 10–14.
9. Gupta SG, Wang LC, Penas PF et al. Sentinel lymph node biopsy for evaluation and treatment of patients with Merkel cell carcinoma: The Dana-Farber experience and meta-analysis of the literature. Arch Dermatol 2006; 142: 685–690.
10. Rob L, Charvát M, Robová H et al. Identifikace sentinelových lymfatických uzlin u časných stádií cervikálních karcinomů. Čes Gynek 2004; 69(4): 273–277.
11. Feranec R, Otevřel P, Frgala T et al. Mapování lymfatik a biopsie sentinelové uzliny u pacientek s karcinomem endometria. Klin Onkol 2007; 20: 199–204.
12. Mrzena L, Betka J, Plzák J et al. Peroperační identifikace a bioptické vyšetření sentinelové uzliny u nádorů hlavy a krku. Otorinolaryng Foniatr 2005; 54(3): 119–128.
13. Nováková V, Keprtová P Význam biopsie sentinelové lymfatické uzliny u dlaždicobuněčných karcinomů v oblasti hlavy a krku. Klin Onkol 2007; 20: 287–293.
14. Bohanes T, Klein J, Král V et al. Detekce sentinelové uzliny u plicního karcinomu pomocí patentní modři a její klinický význam. Rozhl Chir 2004; 83(6): 210–216.
15. Fait V. Sentinelová biopsie a možnosti a možnosti využití v současné onkochirurgii. Klin Onkol 2008; 21: 5–19.
16. Neoral Č, Bohanes T (ed). Biopsie sentinelové uzliny. Galén: Praha 2012. ISBN 9788072628827.
Labels
Diabetology
Endocrinology
Internal medicine
---
Article was published in
Internal Medicine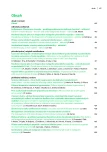 ---
Most read in this issue
This topic is also in:
---