Liver rupture with hemoperitoneum as rare complication of cardiopulmonary resuscitation in young patient with acute myocardial infarction
---
Authors: Linda Vetešková 1; Petr Kysela 2; Šárka Bohatá 3; Jiří Pařenica 4,5
Authors' workplace: Centrum kardiovaskulární a transplantační chirurgie Brno, ředitel doc. MUDr. Petr Němec, CSc. 1; Chirurgická klinika LF MU a FN Brno, pracoviště Bohunice, přednosta prof. MUDr. Zdeněk Kala., CSc. 2; Radiologická klinika LF MU a FN Brno, pracoviště Bohunice, přednosta prof. MUDr. Vlastimil A. Válek, CSc., MBA 3; Interní kardiologická klinika LF MU a FN Brno, pracoviště Bohunice, přednosta prof. MUDr. Jindřich Špinar, CSc., FESC 4; Mezinárodní centrum klinického výzkumu FN u sv. Anny Brno, ředitel Gorazd B. Stokin, M. D., MSc., Ph. D. 5
Published in: Vnitř Lék 2014; 60(5-6): 527-530
Category: Case Report

Overview
Rupture of the liver is a rare but a very serious complication of cardiopulmonary resuscitation. The presented case report describes a young patient with acute myocardial infarction with ST segment elevation treated by primary PCI. Just during admission to the hospital she had ventricular fibrillation with prolonged resuscitation. Subsequently due to a decrease of hemoglobine a liver rupture with hemoperitoneum was diagnosed by ultrasonography and computed tomography (CT). Conservative therapy with repeated ultrasonography and CT examinations was successful even without discontinuation dual antiplatelet therapy. Frequency of this rare complication, diagnostics and therapeutic options are discussed.

Key words:
cardiopulmonary resuscitation – hemoperitoneum – liver rupture – myocardial infarction
---
Sources
1. Baringer JR, Salzman EW, Jones WA et al. External cardiac massage. N Engl J Med 1961; 265: 62–65.
2. Krischer JP, Fine EG, Davis HJ et al. Complications of cardiac resuscitation. Chest 1987; 92(2): 287–291.
3. Patterson RH, Burns WA, Jannotta FS. Complications of external cardiac resuscitation: a retrospective reviewe and survey of the literature. Med Ann Dist Columbia 1974; 43(8): 389–394.
4. Silberberg B, Rachmaninoff N. Complications following external cardiac massage. Surg Gynecol Obstetr 1964; 119: 6–10.
5. Adler SN, Klein RA, Pellecchia C et al. Massive hepatic hemorrhage associated with cardiopulmonary resuscitation. Arch Intern Med 1983; 143(4): 813–814.
6. Druwe PM, Cools FJ, De Raedt HJ et al. Liver rupture after CPR in a patient receiving thrombolytic therapy. Resuscitation 1996; 32(3): 213–216.
7. Reinartz H. Das stumpfe oberbauchtrauma als komplikation nach kardialer reanimation. Anästh Intensivther Notfallmed 1989; 24(2): 111–114.
8. Gillies M, Hogarth I. Liver rupture after cardiopulmonary resuscitation during perioperative cardiac arrest. Anaesthesia 2001; 56(4): 387–388.
9. Coughlin PA, Stringer MD, Lodge JP et al. Management of blunt liver trauma in a tertiary referral center. Br J Surg 2004; 91(3): 317–321.
10. Healey MA, Simons RK, Winchell RJ et al. A prospective evaluation of abdominal ultrasound in blunt trauma: Is it useful? J Trauma 1996; 40(6): 875–883.
11. Chiu WC, Cushing BM, Rodriguez A et al. Abdominal injuries without hemoperitoneum: A potential limitation of focused abdominal sonography for trauma (FAST). J Trauma 1997; 42(4): 617–623.
12. Yoon W, Jeong YY, Kim JK et al. CT in Blunt Liver Trauma. Radiographics 2005; 25(1): 87–104.
13. Smekal D, Johansson J, Huzevka T et al. No difference in autopsy detected injuries in cardiac arrest patients treated with manual chest compressions compared with mechanical compressions with the LUCAS device – a pilot study. Resuscitation 2009; 80(10): 1104–1107.
Labels
Diabetology
Endocrinology
Internal medicine
---
Article was published in
Internal Medicine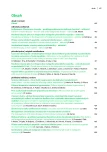 ---
Most read in this issue
This topic is also in:
---