Experience in the treatment of torpid condylomata acuminata by 5% imiquimod cream
---
Authors: M. Kumpová; V. Resl; D. Kacerovská; K. Pizinger
Authors' workplace: Dermatovenerologická klinika FN Plzeň, Přednosta: prof. MUDr. Vladimír Resl, CSc.
Published in: Prakt. Lék. 2006; 86(11): 662-665
Category: Therapy

Overview
Backround:
With an incidence rate of 1–2 %, condylomata acuminata (CA) is one of the most common sexually transmitted viral diseases. Immunocompromised patients with a focal or systemic chronic infection are prone to occurrence of the disease and its persistence. No specific treatment exists. Immunomodulation therapy with topically applied 5% imiquimod cream is one of the possible therapeutic options in patients with torpid flares.

Objectives and methods:
The authors describe their experience with the treatment of torpid CA by means of topically applied 5% imiquimod cream in 5 patients who had been treated unsuccessfully with liquid nitrogen, podophyllin and podophyllotoxin over a long time period. Prior to initiation of the treatment, the presence of chronic infection was excluded or treated and the patients underwent an immunology check-up.

Conclusion:
80 % (4 out of the 5) of the patients completely recovered and no CA reoccurred in the 6 to 24 month follow-up period. In 2 of the 5 patients, mild topical irritation was observed during the course of therapy. In one patient, the therapy was completely unsuccessful. This study therefore indicates the use of imiquimod in cases of torpid and recidiving flares of CA especially for patients with even mild immunological defects, where persistence of CA may be the only clinical sign of an immunocompromised status.

Discussion:
5% Imiquimod cream is not the first choice medication in CA therapy, but in case of torpid CA, especially in immunocompromised patients, it poses a therapeutic as well as financial benefit as compared to the widely used application of liquid nitrogen, podophyllin and podophyllotoxin.

Key words:
Condylomata acuminata, imiquimod
---
Labels
General practitioner for children and adolescents
General practitioner for adults
---
Article was published in
General Practitioner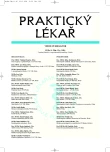 ---
Most read in this issue
This topic is also in:
---