Detection of Ectopic Gastric Mucosa by Means of Scintigraphy with 99mTc-Pertechnetate in Children
---
Authors: J. Doležal 1; J. Vižďa 1; P. Kuliaček 2
Authors' workplace: Oddělení nukleární medicíny FN, Hradec Králové přednosta MUDr. Ing. J. Vižďa 1; Oddělení dětské chirurgie a traumatologie FN, Hradec Králové přednosta MUDr. J. Koudelka, CSc. 2
Published in: Čes-slov Pediat 2007; 62 (7-8): 428-434.
Category: Original Papers

Overview
Aim:
The article presents authors experiences with Meckel's diverticulum scintigraphy in children. Ectopic gastric mucosa may be present in Meckel's diverticulum and be associated with peptic ulcer disease and lower gastrointestinal (GI) bleeding. 99mTc-pertechnetate scintigraphy can help to make diagnosis of ectopic gastric mucosa.

Material and method:
Seventy-eight children (39 boys, 39 girls, aged 1–17, mean 8 years) underwent Meckel's diverticulum scintigraphy at our department from 1st January 1994 to 1st February 2007. All patients had current anamnesis of GI bleeding from unknown source (enterorrhagia, melaena, haemorrhagic anaemia). Endoscopy of upper tract and large bowel and enteroclysis and ultrasound were negative.

Results:
The ectopic gastric mucosa was detected in three children (two boys – twoand ten-years-old, one girl – four-years-old). These children underwent surgery and Meckel's diverticulum with ectopic gastric mucosa (by histology) was detected.

Conclusion:
Meckel's diverticulum scintigraphy can help to detect ectopic gastric mucosa and improve management of disease.

Key words:
ectopic gastric mucosa, gastrointestinal bleeding in children, Meckel's diverticulum scintigraphy
---
Labels
Neonatology
Paediatrics
General practitioner for children and adolescents
---
Article was published in
Czech-Slovak Pediatrics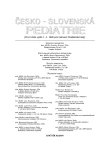 ---
Most read in this issue
This topic is also in:
---