LYMPHATIC DRAINAGE OF THE PROSTATE
---
Authors: prof. MUDr. Libor Páč, CSc.
Authors' workplace: Anatomický ústav LF MU, Brno
Published in: Urol List 2006; 4(4): 10-12

Overview
Distinct sentinel lymph node marking is an objective pursued by surgeons tackling the issue of removal of lymph node metastases. Meeting this objective continues to be a challenge in the case of prostate metastases. Lymph from the prostate drains in 3 directions, into 2 groups of lymph nodes in the pelvis, i.e. nodi lymphatici iliaci interni (nodi lymphatici obturatorii, nodi lymphatici sacrales), nodi lymphatici iliaci externi.

KEY WORDS:
nodi lymphatici iliaci interni, nodi lymphatici iliaci externi, prostate, prostate sentinel lymph node
---
Sources
1. Bader P, Burkhard FC, Markwalder R, Studer UE. Is a limited lymph node dissection an adequate staining procedure for prostate cancer? J Urol 2002; 168: 514- 518.
2. Bader P, Burkhard FC, Studer UE. Lymfadenektomie beim Prostatakarzinom. In: Der Urologe B. Springer: Heidelberg 2004: 42-45.
3. Brooks JD. Anatomy of the lower urinary tract and mail genitalia. In: Campbell´s Urology. 8th ed. Elsevier: Saunders and Mosby W.B. 2002: 1-80.
4. Cunningham FG. Cunningham´s Textbook of Anatomy. 9th ed. Oxford: University Press 1951.
5. Čihák R. Anatomie. 2. ed. Praha: Grada Publishing 2002, Vol 2.
6. Del Regato J, Ackermann L. Diagnosis, treatment and prognosis of cancer. In: Campbell´s Urology. 4th ed. Philadelphia: WB Saunders 1977.
7. Williams PL, Warwick R. Gray´s Anatomy. Edinburgh: Churchill Livingstone 1980.
8. Heidenreich A, Varga Z, Von Knobloch R. Extended palvic lymphadenectomy in patiens undergoing radical prostatectomy: high incidence of lymph node metastasi. J Urol 2002; 167: 1681-1686.
9. Janetschek G. Sentinel-Lymphknotendissektion beim Prestatakarzinom. J Urol Urogyn 2004; 11: 6-8.
10. Jeschke S, Nambirajan T, Leeb K. Detection of early lymph node metastase in prostate cancer by laparoscopic radioisotope-guided sentinel lymph node dissection. J Urol 2005; 173: 1943-1946.
11. Páč L. Morphologie der Prostata. In: Schneider HJ, Kohlíček J (eds). Die Prostata. Leipzig: VEB Georg Thieme 1977: 13-24.
12. Rigatti P, Chun F, Salonia A. A nomogram for staining of exclusive nonobturator lymph node metastase in men with localized prostate cancer. Eur Urol 2006; v tisku.
13. Shink S. Das metastasierte Prostatakarzinom. Identifikation von Patiente, die von einer Lymfadenektomie profitiere. Dissertation. Műnchen: Techn. Univ. 2005.
14. Schumacher M, Burkhard F, Thalmann G. Is pelvic lymph node dissection necessary in patiens with a serum PSA<10 ng/ml undergoing radical prostatectomy for prostate cancer? Eur Urol 2006; 50: 572-579.
15. Staník M. Pánevní lymfadenektomie u karcinomu prostaty a její hranice. Urol List 2006; 4(4):14.
16. Stone NN, Stock RG, Unger P. Laparoscopic pelvic lymph node dissection for prostatae cancer: Comparison of extended and modified techniques. J Urol 1997; 158: 891-1894.
17. Wawroshek F, Vogt H, Weckewrmann D. Radioisotope guided pelvic lymph node dissection for prostate cancer. J Urol 2001; 166: 1715-1719.
18. Weingartner KM, Ramaswamy A, Bittinger A. Anatomical basis for pelvic lymphadenectomy in prostate cancer: results of an autopsy and implications for the clonic. J Urol 1996; 156: 1969-1971.
Labels
Paediatric urologist
Urology
---
Article was published in
Urological Journal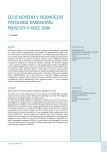 ---
Most read in this issue
This topic is also in:
---