Hip fractures
---
Authors: Drahomíra Weisová; Martin Salášek; Tomáš Pavelka
Authors' workplace: Klinika ortopedie a traumatologie pohybového ústrojí LF UK a FN, Plzeň
Published in: Čas. Lék. čes. 2013; 152: 219-225
Category: Review Article

Overview
Hip fractures are ranked among the frequent injuries. These fractures have been often coupled with high energy trauma in children and in patients with normal bone structure, low energy trauma and osteoporotic fracture (fragility fracture) is typical in elder patients. Hip fractures are divided into five groups: femoral head fracture, femoral neck fracture, pertrochanteric, intertrochateric and subtrochanteric fracture. Surgical treatment is indicated in all patients unless contraindications are present. Long bed rest has been accompanied by a high risk of development of thromboembolic disease, pneumonia and bed sore. Healing in the wrong position and nonunions are often the result of conservative treatment. Screw osteosynthesis is performed in isolated femoral head factures. Three cannulated screws or a DHS plate (dynamic hip screw) are used in fractures of the femoral neck with normal femoral head perfusion, total hip replacement is recommended in elder patients and in case of loss of blood supply of the femoral head. Pertrochanteric and intertrochanteric fractures can be stabilized by the femoral nails (PFN, PFN A, PFH – proximal femoral nail), nails are suitable for minimally invasive insertion and provide higher stability in the shaft, or plates (DHS) designed for stable pertronchanteric and intertrochanteric fractures. Subtrochanteric fractures can be fixed also intramedullary (nails – PFN long, PFN A long) and extramedullary (plates - DCS dynamic condylar screw, proximal femoral LCP – locking compression plate). Open reduction with internal plate fixation is advantageous for pathological fractures, as biopsy sampling can be performed. Hip fracture rehabilitation is integral part of the treatment, including walking on crutches or with a walker with partial weight bearing for at least six weeks.

Keywords:
proximal femur – fracture – hip – femoral nails – plate osteosynthesis – osteoporosis
---
Sources
1. Vaculík J, Malkus T, Majerníček M, Podškubka A, Dungl P. Incidence zlomenin proximálního femuru. Ortopedie 2007; 2: 62–68.
2. Povýšil C, Dungl P, Skálová H, Vaculík J, Horák M, Povýšilová V. Histopatologické změny skeletu u pacientů se zlomeninou krčku kosti stehenní. Ortopedie 2009; 3: 270–273.
3. Vaculík J, Malkus T, Majerníček M, Dungl P, Podškubka A. Závislost typu následné péče a mortality u pacientů po ošetření zlomeniny proximálního femuru na úrovni soběstačnosti a mobility před úrazem. Ortopedie 2009; 3: 284–290.
4. Bartoníček J, Džupa V, Skála-Rosenbaum J, Douša P, Pazdírek P. Zlomeniny proximálního femuru. Postgraduální medicína 2005; 7: 485–491.
5. Borovanský L, a kol. Soustavná anatomie člověka díl I. 5. vydání. Praha: Avicenum 1976.
6. Bartoníček J, Heřt J. Základy klinické anatomie pohybového aparátu Praha: Maxdorf 2004.
7. Comprehensive Classification of Fractures. Bern, M.E. Müller Foundation 1995.
8. Dungl P, a kol. Ortopedie. Praha: Grada Publishing 2005.
9. Court-Brown CH, McQueen MM, Tornetta III P. Orthopaedic surgery essentials: trauma. Philadelphia: Lippincott Williams & Wilkins 2006.
10. Kunešová M, Koudela K jr., Koudela K, Koudelová J. Vyšetření zlomenin horního konce femuru magnetickou rezonancí (MR) – přínos pro praxi. Acta Chir Orthop Traumatol Čech 2006; 73: 380–386.
11. Majerníček M, Dungl P, Vaculík J, Malkus T. Léčba zlomenin krčku stehenní kosti. Ortopedie 2009; 3: 292–298.
12. Sosna A, Čech O, Krbec M. Operační přístupy ke skeletu končetin, pánve a páteře. Praha: Triton 2005.
13. Malkus T, Vaculík J, Majerníček M. Problematika pertrochanterických zlomenin. Ortopedie 2009; 3: 274–282.
14. Pavelka T, Houček P, Linhart M, Matějka J. Osteosyntéza zlomenin horního konce a diafýzy femuru pomocí PFN – long. Acta Chir Orthop Traumatol Čech 2007; 74: 91–98.
15. Haidukewych GJ. Intertrochanteric Fractures: Ten Tips to Improve Results. J Bone Jt Surg 2009; 91–A: 712–719.
16. Vaculík J, Horák M, Malkus T, Majerníček M, Dungl P, Podškubka A. Stabilita osteosyntézy nestabilních pertrochanterických zlomenin DHS a PFN v randomizované studii v závislosti na denzitě hlavice femuru. Ortopedie 2008; 2: 108–113.
17. Pavelka T, Matějka J, Červenková H. Komplikace osteosyntézy krátkým proximálním femorálním hřebem. Acta Chir Orthop Traumatol Čech 2005; 72: 344–354.
18. Kammerlander C, Gebhard F, Meier C, Lenich A, Linhart W, Clasbrummel B, Neubauer-Gartzke T, Garcia–Alonso M, Pavelka T, Blauth M. Standardised cement augmentation of the PFNA using a perforated blade: A new technique and preliminary clinical results. A prospective multicentre trial. Injury. Int J Care Injured 2011; 42: 1484–1490.
19. Koudela K, Kasal E, Matějka J, Vyskočil V. Geriatrická traumatologie – vize nebo skutečnost? Acta Chir Orthop Traumatol Čech 2009; 76: 338–343.
Labels
Addictology
Allergology and clinical immunology
Angiology
Audiology
Clinical biochemistry
Dermatology & STDs
Paediatric gastroenterology
Paediatric surgery
Paediatric cardiology
Paediatric neurology
Paediatric ENT
Paediatric psychiatry
Paediatric rheumatology
Diabetology
Pharmacy
Vascular surgery
Pain management
fenix.admin.empty
---
Article was published in
Journal of Czech Physicians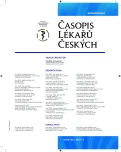 ---
Most read in this issue
This topic is also in:
---