"The higher the better" seems to be no longer true for HDL-cholesterol
---
Authors: Hana Rosolová
Authors' workplace: Centrum preventivní kardiologie II. interní kliniky LF UK a FN Plzeň
Published in: Vnitř Lék 2018; 64(12): 1153-1155
Category:

Overview
It is very well known from the old epidemiological population studies, that HDL-cholesterol (HDL-C) was in a negative association with coronary events risk. New studies have occurred during the last 10 years that the mentioned association has in fact the U-shaped curve, i.e. lower and higher levels of HDL-C then the optimal one are in an exponential increasing risk. The association of high HDL-C levels with cardiovascular risk is not explained clearly. There might be a hypothesis concerning a change of function of large HDL particles riched of cholesterol esters, which become to be cholesterol donors for the arteries.
Key words:
cardiovascular risk – HDL-cholesterol – HDL particles
---
Sources
Multiple Risk Factor Intervention Trial Research Group: MRFIT: a National study of primary prevention of coronary heart disease. JAMA 1976; 235(8): 825–827.
Allard-Ratick M, Fonarow G. HDL-cholesterol is associated with adverse cardiovascular outcomes. European Society of Cardiology meeting, Munich, Germany, Aug. 25, 2018. Dostupné z WWW: <https://content.zone-secure.net/escardio_congress_2018/#page=1>.
Van der Steeg WA, Holme I, Boekholdt SM et al. High-density lipoprotein cholesterol, high-density lipoprotein particle size, and apolipoprotein A-I: significance for cardiovascular risk: the IDEAL and EPIC-Norfolk studies J Am Coll Cardiol 2008; 51(6): 634–642. Dostupné z DOI: <http://dx.doi.org/10.1016/j.jacc.2007.09.060>.
Madsen CM, Varbo A, Nordestgaard BG. Extreme high high-density lipoprotein cholesterol is paradoxically associated with high mortality in men and women: two prospective cohort studies. Eur Heart J 2017; 38(32): 2478–2486. Dostupné z DOI: <http://dx.doi.org/10.1093/eurheartj/ehx163>.
Kastelein JJ, van Leuven SI, Burgess L et al. Effect of Torcetrapib on Carotid Atherosclerosis in Familial Hypercholesterolemia. N Engl J Med 2007; 356(16): 1620–1630. Dostupné z DOI: <http://dx.doi.org/10.1056/NEJMoa071359>.
Cannon CP, Shah S, Dansky HM et al. Safety of anacetrapib in patients with orat high risk for coronary heart disease. N Engl J Med 2010; 363(25): 2406–2415. Dostupné z DOI: <http://dx.doi.org/10.1056/NEJMoa1009744>.
Bowman L, Hopewell JC, Chen F et al. [HPS3/TIMI55-REVEAL Collaborative Group]. Effects of Anacetrapib in Patients with Atherosclerotic Vascular Disease. N Engl J Med 2017; 377(13): 1217–1227. Dostupné z DOI: <http://dx.doi.org/10.1056/NEJMoa1706444>.
Tall AR, Costet P, Wang N. Regulation and mechanisms of macrophage cholesterol efflux. J Clin Invest 2002; 110(7): 899–904. Dostupné z DOI: <http://dx.doi.org/10.1172/JCI16391>.
Navab M, Anatharamaiah GM, Reddy ST et al. Mechanisms of disease: proatherogenic HDL – anevolving field. Nat Clin Pract Endocrinol Metab 2006; 2(9): 504–511. Dostupné z DOI: <http://dx.doi.org/10.1038/ncpendmet0245>.
Labels
Diabetology
Endocrinology
Internal medicine
---
Article was published in
Internal Medicine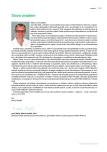 ---
Most read in this issue
This topic is also in:
---