Immunosuppressive therapy and its problems
---
Authors: M. Kuman
Authors' workplace: Centrum kardiovaskulární a transplantační chirurgie Brno, ředitel doc. MUDr. Petr Němec, CSc.
Published in: Vnitř Lék 2011; 57(7&8): 655-658
Category: 136th internal medicine day, XXIV. Vanýskův den, Brno 2011

Overview
Immunosuppressive therapy is crucial for successful kidney transplantation. Induction, antirejection and maintenance immuno­suppressive therapy are basic types of immunosuppressive therapy. Base of maintenance immunosuppressive therapy are corticoids + tacrolimus + mycofenolate mofetil. Short and long-term adverse effects are present. Drug interaction with macrolids and anti­mycotics are substantial. Cooperation between transplantologist and other specialists are crucial for adequate immunosuppressive therapy actualization. Lack of correlation and communication may lead to irrecoverable damage to transplanted kidney.

Key words:
immunosuppressive therapy – immunosuppressive agents – adverse effects – interaction – cooperation
---
Sources
1. Kahan BD, Koch SM. Current immunosuppressant regiment: considerations for critical care. Curr Opin Crit Care 2001; 7: 242–250.
2. Masri MA. The mosaic of immunosuppressive drugs. Mol Immunol 2003; 39: 1073–1077.
Labels
Diabetology
Endocrinology
Internal medicine
---
Article was published in
Internal Medicine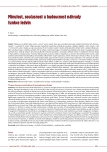 ---
Most read in this issue
This topic is also in:
---