LESS (LAPARO-ENDOSCOPIC SINGLE-SITE SURGERY) NEPHRECTOMY
---
Authors: Milan Hora 1; Vitor Eret 1; Petr Stránský 1; Tomáš Ürge 1; Jiří Ferda 2; Ondřej Hes 3
Authors' workplace: Urologická klinika, LF UK a FN Plzeň 1; Klinika zobrazovacích metod, LF UK a FN Plzeň 2; Šiklův ústav patologie, LF UK a FN Plzeň 3
Published in: Ces Urol 2015; 19(1): 83-85
Category: Video

Overview
Introduction:
The video presents our technique of LESS nephrectomy.

Material:
From 8/2011 to 10/2014 we performed 262 mini-invasive nephrectomies including 62 LESS procedures (23.7 %) that are evaluated below. There were 26 men, 36 women, 33 left sided and 29 right sided. The mean BMI was 26.9±3.9 (16–33.2). We used mostly Quadport+® and GelPoint® in 8 cases. There were 45 tumours and 17 benign masses. We had no strict indication criteria for LESS, it depended on subjective evaluation of the feasibility of surgical team. Procedures were performed by 4 surgeons. Nonobese patients with less advanced tumours were included.

Method:
This video presents a typical case. The surgery begins in a flank position using transumbilical minilaparotomy and multichannel port (Quadport+ ®). A 10 mm 0° video camera, one pre-bent grasper and some sealing devices were used. The lower pole of the kidney is deliberated, the ureter and hilum are identified and elevated by using a thread that is introduced through the abdominal wall. The renal hilum is divided en bloc with a stapler. The kidney is totally deliberated without any drainage.

Results:
We used the transumbilical approach in 27 LESS (43.5 %) nephrectomies (the last 19 only with this procedure) and a pararectal incision in the rest. An additional port was used in 27.4 % (17) – 2/33 (6.1 %) on the left, 15/29 (51.7 %) on the right. In 3 cases of them (4.8 %), another additional port (conventional laparoscopic nephrectomy) was necessary. There were 2 conversions (3.2 %). The mean operation time (OT) was 96.7±40.0 (28–230) minutes. The most experienced surgeon had mean OT 73.4±20.0 (28–104). Hilar vessels were divided separately in 14 (22.6 %) cases using lockable clips, and 48 (77.4 %) cases en bloc with a stapler. The mean hospitalization time was 5.9±4.8 (2–40) days. Complications according to the Clavien-Dindo classification were 3 times grade II and 2 times grade IIIb (revisions for lesion of small intestine sutured to the minilaparotomy and liver bleeding) and one grade IVa (postoperative cardiopulmonary resuscitation).

Conclusion:
In selected cases (BMI<33 and less advanced tumours). LESS nephrectomy performed by an experienced laparoscopic surgeon, is a safe and effective method for benign and malignant kidney masses.

KEY WORDS:
Nephrectomy, laparoscopy.
---
Sources
1. Eret V, Schmidt M, Stránský P, et al. Laparoendoscopic single-site surgery (LESS) in urology – a new frontier in minimally invasive surgery? Ces Urol. 2012; 16(3): 146–156.
2. Hora M, Eret V, Stránský P, et al. Position of laparo-endoscopic single-site surgery nephrectomy in clinical practice and comparison (matched case-control study) with standard laparoscopic nephrectomy. Videosurgery and Other Miniinvasive Techniques. 2014; 9(3): 371–379.
Labels
Paediatric urologist
Nephrology
Urology
---
Article was published in
Czech Urology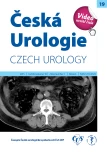 ---
Most read in this issue
This topic is also in:
---