Adhesive Systems in Morphological Picture. I. Tetric Ceram HB
---
Authors: M. Kukletová 1; J. Kuklová 1; D. Horký 2; Z. Halačková 1
Authors' workplace: Stomatologická klinika LF MU a FN U Sv. Anny, Brno přednosta prof. MUDr. J. Vaněk, CSc. 1; Ústav histologie a embryologie LF MU, Brno přednosta prof. MUDr. D. Horký, DrSc. 2
Published in: Česká stomatologie / Praktické zubní lékařství, ročník 105, 2005, 3, s. 37-41
Category:

Overview
The authors studied the character of adhesive connection in the composite material Excite-Tetric Flow-Tetric Ceram HB using scanning and transmission electron microscopy. The aim of the study was to evaluate the obturation of dentinal tubules, formation of the hybrid layer, adhesion of the material to the enamel and the character of connection of all materials used. The study demonstrated that the dentinal adhesives Excite obturated the dentinal tubules well, so that the leakage of fluids from dentinal tubules and dentine hypersensitivity can be prevented. Quality of adhesion to dental hard tissues was very good, boundaries between individual materials were not visible. Adhesive system Excite-Tetric Flow-Tetric Ceram HB can be recommended to clinical practice.

Key words:
adhesive systems – composite materials – electron microscopy
---
Labels
Maxillofacial surgery
Orthodontics
Dental medicine
---
Article was published in
Czech Dental Journal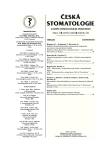 ---
Most read in this issue
This topic is also in:
---