Cystatin C – Implementace do laboratorní a klinické praxe
---
Authors: T. Šálek 1,2,3; B. Friedecký 1; M. Budina 1
Authors' workplace: SEKK, spol. s. r. o., Za Pasáží 1609, 530 02 Pardubice 1; Department of Clinical Biochemistry and pharmacology, Tomas Bata Hospital in Zlín a. s., Havlíčkovo nábřeží 600, 762 75 Zlín, Czech Republic 2; Medical Faculty of the University of Ostrava, Department of Biomedical sciences, Syllabova 19, 703 00 Ostrava – Zábřeh 3
Published in: Klin. Biochem. Metab., 27, 2019, No. 1, p. 16-18

Overview
Cíl: Doporučení Kidney Disease Improving Global Outcomes (KDIGO) doporučuje vydávat výsledek koncentrace cystatinu C společně s odhadovanou glomerulární filtrací (eGFRcys). Míra implementace tohoto doporučení v praxi není známa. Cílem této studie je stanovit míru této implementace a laboratořím, které tak ještě neučinily, poskytnout návod k jejímu zavedení.
Typ studie: průřezová.
Název a sídlo pracoviště: SEKK, spol. s.r.o., Za Pasáží 1609, 530 02 Pardubice.
Materiál a metody: Hodnocení implementace doporučení bylo provedeno pomocí internetového elektronického dotazníku, který byl přidán k cyklu externího hodnocení kvality (EQA). 70 účastníkům (59 z České republiky a 11 ze Slovenska). Účastníci odpovídali, jestli má jejich metoda návaznost kalibrace na mezinárodní referenční materiál ERM DA471/IFCC a jestli počítají eGFRcys. Odpovědi byly analyzovány.
Výsledky: Na dotazník odpovědělo 63 účastníků. Návaznost kalibrace měření k mezinárodnímu referenčnímu materiálu ERM DA471/IFCC uvedlo 53 odpovědí. Celkem 53 laboratoří uvedlo vydávání eGFR u všech dospělých pacientů a čtyři vydávají eGFR jen na vyžádání. Šest laboratoří nepočítá eGFR. The Chronic Kidney Disease Epidemiology Collaboration (CKD - EPI) rovnice byla užívána 57 laboratořemi. Z nich 22 počítá také kombinovanou rovnici s kreatininem a tři laboratoře počítají také Caucasian, Asian, Pediatric and Adult (CAPA) rovnici.
Závěr: Většina laboratoří dodržuje KDIGO doporučení. Nicméně další edukace ohledně návaznosti měření a výpočtu eGFR s každým výsledkem je stále potřebná.
Klíčová slova:
Cystatin C – Glomerulární filtrace – Odhadovaná glomerulární filtrace – Post-analytická fáze – Externí hodnocení kvality
---
Sources
1. Krleza, J. L., Dorotic, A., Grzunov, A. External qua-lity assessment of medical laboratories in Croatia: preliminary evaluation of post-analytical laboratory testing. Biochem Med (Zagreb) 2017, 27(1), p.144–52.
2. Kidney Disease: Improving Global Outcomes (KDIGO) CKD Work Group. KDIGO 2012 clinical practice guideline for the evaluation and management of chronic kidney disease: Chapter 1: Definition and classification of CKD. Kidney Int Suppl 2013, 3(1), p. 1–150.
3. Zima, T., Racek, J., Tesař, V., Viklicky, O., Teplan, V., Schuck, O., Janda, J., Friedecky, B., Kubiček, Z., Kratochvila, J., Rajdl, D., Šalek, T., Kalousova, M., Granatova, J. Doporučení k diagnostice chronic-kého onemocnění ledvin (odhad glomerulární filtrace a vyšetřování proteinurie) České nefrologické společnosti ČLS JEP a České společnosti klinické biochemie ČLS JEP. Klin. Biochem Metab 2014, 22 (43), 3, p. 138-152.
4. Shlipak, M. G., Sarnak, M. J., Katz, R., Fried, L. F., Seliger, S. L., Newman, A. B.,et al. Cystatin C and the risk of death and cardiovascular events among elderly persons. New England Journal of Medicine 2005, 352.20: 2049-2060.
5. Stevens, L. A., Schmid, C. H., Greene, T., Li, L., Beck, G. J., Joffe, M. M., Levey, A. S. Factors other than glomerular filtration rate affect serum cystatin C le-vels. Kidney international 2009, 75(6), p. 652-660.
6. Grubb, A., Blirup-Jensen, S., Lindström, V., Schmidt, C., Althaus, H., Zegers, I. et al. First certified reference material for cystatin C in human serum ERM-DA471/IFCC. Clin Chem Lab Med 2010, 48(11), p.1619–21.
7. Bargnoux, A-S., Piéroni, L., Cristol., J-P., Kuster, N., Delanaye, P., Carlier, M-C., et al. Multicenter Evaluation of Cystatin C Measurement after Assay Standardization. Clin Chem 2017, 63(4), p.833–41.
8. Friedecký, B. Quality in clinical laboratory and patient safety. Klin Biochem Metab 2010,18(39), p. 136–43.
9. Badrick, T., Gay, S., McCaughey, E. J., Georgiou, A. External Quality Assessment beyond the analytical phase: an Australian perspective. Biochem Med (Zagreb) 2017, 27(1), p. 73–80.
10. Krleza, J. L., Celap, I., Tanaskovic, J. V. External Quality Assessment in Croatia: problems, challenges, and specific circumstances. Biochem Med (Zagreb) 2017, 27(1), p. 86–92.
11. Tate, J. R., Koerbin, G., Adeli, K. Opinion Paper: Deriving Harmonised Reference Intervals – Global Activities. EJIFCC 2016, 27(1), p. 48–65.
12. Parham, D. M., Coleman, D., Kodikara, S., Moss, S., Ellis, IO., Al-sam, S. et al. The NHS breast screening programme (pathology) EQA: experience in recent years relating to issues involved in individual performance appraisal. J Clin Pathol 2006, 59(2), p. 130–7.
13. Šálek, T., Franeková, J., Jabor, A., Friedecký, B. Postanalytická fáze a interpretace laboratorního testu (post-postanalytická faze). Klin Biochem Metab 2016, 24(45), p. 82–87.
Labels
Clinical biochemistry
Nuclear medicine
Nutritive therapist
---
Article was published in
Clinical Biochemistry and Metabolism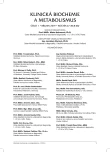 ---
Most read in this issue
This topic is also in:
---