Ularitide in the treatment of acute heart failure decompensation – results of the TRUE-AHF trial
---
Authors: O. Ludka
Authors' workplace: Interní kardiologická klinika LF MU a FN Brno ; Mezinárodní centrum klinického výzkumu, FN u sv. Anny v Brně
Published in: Kardiol Rev Int Med 2017, 19(3): 172-176

Overview
The primary hypothesis of the study was that ventricular distension during acute heart failure leads to myocardial injury, which would explain why such episodes of acute decompensation accelerate or worsen the course of the disease. The results showed that early vasodilation leads to significant decongestion and reduces cardiac-wall stress and rates of in-hospital worsening of heart failure. However, this positive effect did not reduce myocardial injury, nor did it change the prognosis of these patients, including the long-term risk of cardiovascular death.

Keywords:
acute heart failure decompensation – ularitide
---
Sources
1. Mitrovic V, Seferovic PM, Simeunovic D et al. Haemodynamic and clinical effects of ularitide in decompensated heart failure. Eur Heart J 2006; 27(23): 2823– 2832.
2. Lüss H, Mitrovic V, Seferovic MP et al. Renal effects of ularitide in patients with decompensated heart failure. Am Heart J 2008; 155(6): 1012.e1– e8. doi: 10.1016/ j.ahj.2008.02.011.
3. Packer M, O'Connor C, McMurray JV et al. Effect of ularitide on cardiovascular mortality in acute heart failure. N Engl J Med 2017; 376(20): 1956– 1964. doi: 10.1056/ NEJMoa1601895.
4. Metra M, Ponikowski P, Cotter G et al. Effects of serelaxin in subgroups of patients with acute heart failure: results from RELAX-AHF. Eur Heart J 2013; 34(40): 3128– 3136. doi: 10.1093/ eurheartj/ eht371.
5. Teerlink JR. RELAX-AHF-2: Serelaxin in acute heart failure. Heart Failure 2017 and World Congress on Acute Heart Failure 2017, Paris, France.
Labels
Paediatric cardiology
Cardiac surgery
Cardiology
---
Article was published in
Cardiology Review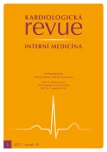 ---
Most read in this issue
This topic is also in:
---