The 200-year Anniversary of J. Y. Simpson's Birth
---
Authors: Málek Jiří
Authors' workplace: Klinika anesteziologie a resuscitace 3. LF UK a FNKV Praha a Komise pro historii ČSARIM
Published in: Anest. intenziv. Med., 22, 2011, č. 6, s. 348-349
Category: History

Overview
J Y Simpson, an important figure in the history of anaesthesia, was born 200 years ago. Simpson is well known for many new methods and discoveries in anaesthesiology, obstetrics, gynaecology and infection. He was a very early advocate of the use of analgesia during childbirth, which was a matter of discussion not only in medicine but also in religion and ethics. Simpson was the first to use ether during delivery but he was dissatisfied with it and tried to find a better drug. After experiments with various substances he used chloroform in November 1847 and published his experience 2 weeks later.

The article reminds us of his significance in the field of medicine.

Keywords:

anaesthesiology – history – J Y Simpson
---
Sources
1. Defalque, R, J., Wright, A. J. The Discovery of Chloroform: Has David Waldie's role been exaggerated? Anesthesiology, 2011, roč. 114, s. 1004–1005.
2. Simpson E. B. Sir James Y Simpson. [on line]. 1896, Oliphant Anperson and Ferrier, Edinburgh and London. (cit:2011-07-14). Dostupný z www: http://www.electricscotland. com/history/ other/sirjamesysimpson00simpuoft.pdf
3. McKenzie, A. G. The bicentenary of James Young Simpson (1811–1870). Anaesthesia, 2011, roč. 66, s. 438–440
Labels
Anaesthesiology, Resuscitation and Inten
Intensive Care Medicine
---
Article was published in
Anaesthesiology and Intensive Care Medicine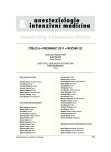 ---
Most read in this issue
This topic is also in:
---