Psychological influences on wound healing
---
Authors: Z. Adamová 1; Z. Adam 2
Authors' workplace: Chirurgické oddělení, Vsetínská nemocnice, a. s. 1; Interní hematoonkologická klinika, Fakultní nemocnice Brno 2
Published in: Rozhl. Chir., 2019, roč. 98, č. 8, s. 312-314.
Category: Review
doi: 10.33699/PIS.2019.98.8.312–314
Overview
Surgical wound complications remain a major cause of morbidity; although usually not life threatening, they reduce the quality of life. They are also associated with excessive health care costs. Wound healing is affected by many factors – wound characteristics, infection, comorbidities and nutritional status of the patient. In addition, though, psychological stress and depression may decrease the inflammatory response required for bacterial clearance and so delay wound healing, as well.
Although the patient´s state of mind can be influenced only to a certain extent, we should nevertheless stick to ERAS (Enhanced Recovery After Surgery) guidelines and try to diminish fear and anxiety by providing enough information preoperatively, pay due attention to postoperative analgesia and seek to provide an agreeable environment.
Keywords:
wound healing – stress – depression – ERAS
---
Sources
Boeke S, Duivenvoorden HJ, Verhage F, et al. Prediction of postoperative pain and duration of hospitalization using two anxiety measures. Pain 1991;45:293–7.
Scheier MF, Matthews KA, Owens JF, et al. Optimism and rehospitalization after coronary artery bypass graft surgery. Arch Intern Med. 1999;159:829–35.
Cole-King A, Harding KG. Psychological factors and delayed healing in chronic wounds. Psychosom Med. 2001;63:216–20.
Bozic KJ, Lau E, Kurtz S, et al. Patient-related risk factors for postoperative mortality and periprosthetic joint infection in Medicare patients undergoing TKA. Clin Orthop Relat Res. 2012;470:130−7. doi: 10.1007/s11999-011-2043-3.
Britteon P, Cullum N, Sutton M. Association between psychological health and wound complications after surgery. Br J Surg. 2017;104:769−76.doi: 10.1002/bjs.10474.
Padgett DA, Marucha PT, Sheridan JF.Restraint stress slows cutaneous wound healing in mice. Brain Behav Immun. 1998;12:64–73.
Marucha PT, Kiecolt-Glaser JK. Mucosal wound healing is impaired by examination stress. Psychosom Med. 1998;60:362–5.
Garg A, Chren MM, Sands LP, et al. Psychological stress perturbs epidermal permeability barrier homeostasis: Implications for the pathogenesis of stress-associated skin disorders. Arch Dermatol. 2000;137:53–9.
Kiecolt-Glaser JK, Marucha PT, Malarkey WB, et al. Slowing of wound healing by psychological stress. Lancet 1995;346:1194–96.
Kiecolt-Glaser JK, Loving TJ, Stowell JR, et al. Hostile marital interactions, proinflammatory cytokine production, and wound healing. Arch Gen Psychiatry 2005;62:1377–84.
Farahani RM, Sadr K, Rad JS, et al. Fluoxetine enhances cutaneous wound healing in chronically stressed Wistar rats. Adv Skin Wound Care 2007;20:157–65.
Sivamani RK, Pullar CE, Manabat-Hidalgo CG, et al. Stress-mediated increases in systemic and local epinephrine impair skin wound healing: potential new indication for beta blockers. PLoS Med. 2009;6:e12. doi:10.1371/journal.pmed.1000012.
Vitalo A, Fricchione J, Casali M, et al. Nest making and oxytocin comparably promote wound healing in isolation reared rats. PLoS ONE 2009;4:e5523,
Detillion CE, Craft TK, Glasper ER, et al. Social facilitation of wound healing. Psychoneuroendocrinology 2004;29:1004–11.
Ditzen B, Schaer M, Gabriel B, et al. Intranasal oxytocin increases positive communication and reduces cortisol levels during couple conflict. Biol Psychiatry 2009;65:728–731. doi: 10.1016/j.biopsych.2008.10.011.
Aberg KM, Radek KA, Choi EH, et al. Psychological stress downregulates epidermal antimicrobial peptide expression and increases severity of cutaneous infections in mice. J Clin Invest. 2007;117:3339–49.
Egbert LD, Battit GE, Welch CE, Bartlett MK. Reduction of postoperative pain by encouragement and instruction of patients. A study of doctor-patient rapport. N Engl J Med. 1964;16:825−7.
Møller IW, Dinesen K, Søndergård S, et al. Effect of patient-controlled analgesia on plasma catecholamine, cortisol and glucose concentrations after cholecystectomy. Br J Anaesth. 1988;61:160−4.
Ulrich RS. View through a window may influence recovery from surgery. Science 1984;27:420−1.
Ghoneim MM1, O'Hara MW. Depression and postoperative complications: an overview. BMC Surg. 2016;2:5. doi:10.1186/s12893-016-0120-y.
Malinin A, Oshrine B, Serebruany V. Treatment with selective serotonin reuptake inhibitors for enhancing wound healing. Med Hypotheses 2004;63:103−9.
Bláha J, Svobodová K, Kapounková Z. Therapeutical aspects of using citalopram in burns. Acta Chir Plast. 1999;41:25−32.
Auerbach AD, Vittinghoff E, Maselli J, et al. Perioperative use of selective serotonin reuptake inhibitors and risks for adverse outcomes. JAMA Intern Med. 2013;173:1075−81. doi: 10.1001/jamainternmed.2013.714.
Labels
Surgery
Orthopaedics
Trauma surgery
---
Article was published in
Perspectives in Surgery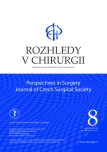 ---
Most read in this issue
This topic is also in:
---