Celiac axis compression syndrome – diagnostic and surgical treatment
---
Authors: P. Berek 1,2; I. Kopolovets 1; Cs. Dzsinich 2; V. Sihotský 1; P. Štefanič 1; M. Frankovičová 1
Authors' workplace: Klinika cievnej chirurgie VÚSCH a. s. a Lekárska fakulta Univerzita Pavla Jozefa Šafárika v Košiciach 1; Szív-, Ér- és Mellkas-sebészeti Osztály, HM Egészségügyi Központ, Budapest 2
Published in: Rozhl. Chir., 2018, roč. 97, č. 9, s. 423-426.
Category: Original articles

Overview
Introduction:
Celiac axis compression syndrome is one of the causes of chronic abdominal ischemia. The authors describe their experience with the surgical treatment of Dunbar syndrome in 12 patients. The purpose of the authors was a retrospective analysis of the surgical treatment of celiac axis compression syndrome.
Method:
Between 2007 and 2016, we treated 12 patients for the celiac axis compressive syndrome. Each patient has performed abdominal sonography, CT-angiography, or angiography. The method of choice in these patients was surgical treatment. In 4 patients we resected median arcuate ligament and nerve fibers of celiac axis. In 8 patients we had to resect the stenotic or occluded celiac axis. We reconstructed the blood supply to the celiac axis by the aorto-celiac bypass, using prothetic or venous grafting or patch plastic of celiac axis stenosis.
Results:
There were no significant complications and deaths in the post - operative period. In one patient signs of chronic abdominal ischemia postoperatively persist.
Conclusion:
Surgery is the method of choice of celiac axis compression syndrome. Indications for surgical reconstruction are symptomatic patients with arterial stenosis over 50%. Proper diagnosis and early surgical treatment are essential for treating chronic visceral ischemia and reducing surgical complications.
Key words:
celiac axis compression syndrome − chronic abdominal ischemia − resection of ligamentum median arcuate
---
Sources
Kim EN, Lamb K, Relles D, et al. Median arcuate ligament syndrome. Review of this rare disease. JAMA Surg 2016. Available from: doi: 10.1001/jamasurg.2016.0002.

Lee JJ, Mills JL Sr. Chronic mesenteric ischemia from diaphragmatic compression of the celiac and superior mesenteric arteries. Ann Vasc Surg 2016. Available from: doi: 10.1016/j.avsg.2015.08.001.

Nikonenko AA. Occlusive stenosis of unpaired visceral branches--diagnosis and treatment. Klin Khir 2013;12:33−6.

Czihal M, Banafsche R, Hoffmann U, et al. Vascular compression syndromes. Vasa 2015;44:419−34.

Cienfuegos JA, Estevez MG, Ruiz-Canela, et al. Laparoscopic treatment of median arcuate ligament syndrome: Analysis of long-term outcomes and predictive actors. J Gastrointest Surg 2018;22:713−21.

Šefránek V, Marton E, Tomka J. Chirurgická liečba kompresívnych syndromov splanchnických tepien. Vaskularná medicina 2016; 1:14.

Elwertowski M, Lechowicz R. Standards of the Polish Ultrasound Society - update. Ultrasound examination of the visceral arteries. J Ultrason 2015;15:85−95.

Ökkeş İK, Güven K, Ali Y, et al. Celiac artery compression syndrome: diagnosis with multislice CT. Diagn Interv Radiol 2007; 13:90−3.

Cheng K, Doyle A, Spilias DC, et al. Novel application of four-dimensional wide-area detector computed tomographic angiography for investigation of medianarcuate ligament syndrome. J Med Imaging Radiat Oncol 2017;61:239−42.

Rubinkiewicz M, Ramakrishnan PK, Henry BM, et al. Laparoscopic decompression as treatment for median arcuate ligament syndrome. Ann R Coll Surg Engl 2015;97:e96−9.

Duran M, Simon F, Ertas N, et al. Open vascular treatment of median arcuate ligament syndrome. BMC Surg 2017;17:95.

Grotemeyer D, Duran M, Iskandar F, et al. Median arcuate ligament syndrome: vascular surgical therapy and follow-up of 18 patients. Langenbecks Arch Surg 2009;394:1085−92.

Grus T, Lambert L, Vidim T, et al. Intraoperative measurement of pressure gradient in median arcuate ligament syndrome as a rationale for radical surgical approach. Acta Chir Belg 2018;118:36−41.
Labels
Surgery
Orthopaedics
Trauma surgery
---
Article was published in
Perspectives in Surgery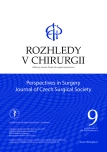 ---
Most read in this issue
This topic is also in:
---