Pressure ulcers in spinal cord injury
---
Authors: L. Mrňa 1; L. Frajer 1; J. Hoch 1; V. Hyšperská 2
Authors' workplace: Chirurgická klinika 2. LF UK a FN Motol, přednosta: prof. MUDr. J. Hoch, CSc. 1; Spinální jednotka při Klinice rehabilitace a tělovýchovného lékařství 2. LF UK a FN Motol, přednosta: prof. PaedDr. P. Kolář, Ph. D. 2
Published in: Rozhl. Chir., 2015, roč. 94, č. 8, s. 329-332.
Category: Original articles

Overview
Introduction:
Pressure ulcers in spinal cord injury represent a challenging problem that often leads to recurrent hospitalizations, multiple surgeries, and potentially devastating complications.

Methods:
Review article.

Results:
The paper presents possible types of reconstructive surgery of ischial, sacral and trochanteric pressure ulcers and our own experience with procedures of such pressure ulcers done in three years.

Conclusion:
We emphasize the versatility and reliability of gluteus maximus musculocutaneus flaps and the importance of preoperative preparation and postoperative care.

Key words:
pressure ulcer – spinal cord injury – gluteus maximus musculocutaneus flap
---
Sources
1. Kruger EA, Pires M, Ngann Y, et al. Comprehensive management of pressure ulcers in spinal cord injury: current concepts and future trends. J Spinal Cord Med 2013;36:572−85.
2. Thorne ChH, et al. Grabb and Smith´s Plastic Surgery, 6th Edition. 2007;74:722−9.
3. Stehlík D, Kalinová L, Molitor M. Chirurgicko-plastická léčba bércových vředů a ran. Dermatologie pro praxi 2012;6:11−5.
4. Dana AN, Bauman WA. Bacteriology of pressure ulcers in individuals with spinal cord injury: What we know and what we should know. J Spinal Cord Med. 2015,38:147−60.
5. Grassetti L, Scalise A, Lazzeri D, et al. Perforator flaps in late-stage pressure sore treatment: outcome analysis of 11-year-long experience with 143 patients. Ann Plast Surg. 2014;73:679–85.
6. Greco M, Marchetti F, Tempesta M, et al. Cutaneous flaps in the treatment of 338 pressure sores: a better choice. Ann Ital Chir 2013;84:655−9.
7. Di Caprio G, Serra-Mestre JM, Ziccardi P, et al. Expanded flaps in surgical treatment of pressure sores: Our experience for 25 years. Ann Plast Surg 2014;
8. Khurram MF, Khan AH, Ahmad IJ, et al. Superior gluteal artery perforator flap: a reliable method for sacral pressure ulcer reconstruction. Wound Care. 2013;22:699−702,704−5.
9. He J, Xu H, Wang TJ, et al. Treatment of complex ischial pressure sores with free partial lateral latissimus dorsi musculocutaneous flaps in paraplegic patients. Plast Reconstr Aesthet Surg. 2012;65:634−9.
Labels
Surgery
Orthopaedics
Trauma surgery
---
Article was published in
Perspectives in Surgery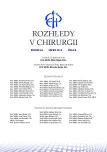 ---
Most read in this issue
This topic is also in:
---