Retropharyngeal Abscess of Cranial Base in a Child
---
Authors: jun. K. Sláma 1; L. Mrázková 2
Authors' workplace: Oddělení ORL a chirurgie hlavy a krku Masarykovy nemocnice, Ústí nad Labem ; primář MUDr. K. Sláma sen. Oddělení RDG Masarykovy nemocnice, Ústí nad Labem 1; primář MUDr. M. Derner 2
Published in: Otorinolaryng. a Foniat. /Prague/, 56, 2007, No. 2, pp. 115-118.
Category: Case History

Overview
Retropharyngeal abscess originates from purulent inflammatory process in retropharyngeal lymphatic nodes localized on both sides of the spine in pharyngeal inflammations. The case report describes the case of a 6-year boy with retropharyngeal abscess localized high up close to cranial base. The diagnostics of the abscess and therapy are described.

Key words:
retropharyngeal abscess, lymphatic nodes, cranial base
---
Sources
1. Černý, J. a kol.: Špeciálna chirurgia. Chirurgia krku a hlavy, Dérerova zbierka 4, 1995, s. 1.
2. Čihák, R.: Topografické prostory hlavy a krku. Anatomie 1. Avicenum, 1987, s. 379-380.
3. Lejska, V.: Absces retrofaryngeální-abscessus retropharyngealis. Kompendium ORL dětského věku. Grada, 1995, s. 1999-200.
Labels
Audiology
Paediatric ENT
ENT (Otorhinolaryngology)
---
Article was published in
Otorhinolaryngology and Phoniatrics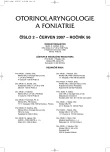 ---
Most read in this issue
This topic is also in:
---