The questionnaire survey of public opinions on the medical review service activity
---
Authors: L. Čeledová ; R. Čevela
Authors' workplace: Odbor posudkové služby MPSV, Praha
Published in: Reviz. posud. Lék., 11, 2008, č. 3, s. 74-79

Overview
Questionnaire survey of MoLSA called Public and Professional Opinion on Assessment Service has shown that it is necessary to enhance professional knowledge of assessment doctors. It means to focus on their lifelong education and in the same time on the financial part of the matter.

Other important things are cohesion with clinical medicine and deepening of cooperation with close related fields, especially with practitioners. It was expected finding that it would be also necessary to inform non-professional public about the Assessment Service in better way.

Suppose that we want to enhance training standards, to meet the financial demands of doctors and motivate younger doctors to join the field.

However, if we do not pay attention to the needs of assessment doctors including their personal development we shouldn't be surprised by the age average and number of doctor without professional qualification then.

Moreover, standards for assessment doctors will raise because of increasing number of social benefit applicants (almost 190 000 in 2007) and a lack of doctors working for the employment offices.

The Law of Social Service brought a need of better mobility of less busy assessment doctors in the segment of social insurance system. Therefore it seems necessary to entitle approved salaries to those assessment doctors who meet the professional standards required for this kind of professional work.

Key words:
assessment service – Ministry of Labour and Social Affairs – questionnaire survey – training – Law of Social Service
---
Sources
1. Závěrečná zpráva dotazníkového šetření "Názory lékařů a veřejnosti na práci lékařské posudkové služby" provedeného společností Faktum Invenio pro MPSV.
2. Zákon č. 108/2006 Sb., o sociálních službách.
3. Interní materiály MPSV o lékařské posudkové službě.
Labels
Medical assessment
Occupational medicine
---
Article was published in
Medical Revision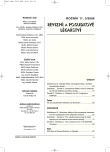 ---
Most read in this issue
This topic is also in:
---