Polymerase chain reaction: basic principles and applications in molecular pathology
---
Authors: Libor Staněk
Authors' workplace: Ústav patologie 1. LF UK a VFN, Praha
Published in: Čes.-slov. Patol., 49, 2013, No. 3, p. 119-121
Category: Reviews Article

Overview
Polymerase chain reaction (PCR) is a technology used for quick and easy amplifying DNA sequences, which is based on the principle of enzymatic replication of the nucleic acids. This method has in the field of molecular biology an irreplaceable role and constitutes one of the basic methods for DNA analysis. In the following article we describe the basic principles of PCR, and its importance especially in the field of pathology.

Keywords:
polymerase chain reaction – nucleic acid amplification – primers – detection of amplicons – reverse transcription
---
Sources
1. Coleman WB, Tsongalis GJ. Molecular Patology. Elsevier: USA; 2009: 197–207.
2. Kolář Z, Bouchal J, Knillová J. Molekulární patologie nádorů. Epava: Olomouc; 2003: 113–142.
3. Powledge TM. The polymerase chain reaction. Advances in Physiology Education 2004; 28: 44–50.
4. Rosypal S. Úvod do molekulární biologie, díl třetí. Grafex: Brno; 1999: 743.
5. Šmarda J, Doškář J, Pantíček R, Růžičková V, Kostíková J. Metody molekulární biologie. Masarykova univerzita v Brně: Brno; 2008: 13–16; 73–104.
6. Konrad M. A (short) history of PCR. http://www.scienceisart.com/A_PCR/PCR history_2. html.
7. Brown TA. Klonování genů a analýza DNA. Univerzita Palackého v Olomouci:
Olomouc; 2007: 3–12; 184–189.
Labels
Anatomical pathology
Forensic medical examiner
Toxicology
---
Article was published in
Czecho-Slovak Pathology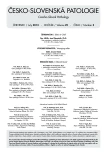 ---
Most read in this issue
This topic is also in:
---