Atypical Mycobacteriosis and Pitfalls of its Therapy
---
Authors: M. Bodnárová 1; J. Štork 1; M. Kojanová 1; P. Ježek 2; V. Fišerová 2; M. Havelková 3; I. Pavlík 4
Authors' workplace: Dermatovenerologická klinika 1. LF UK a VFN, Praha přednosta prof. MUDr. J. Štork, CSc. 1; Oddělení klinické mikrobiologie a parazitologie, Oblastní nemocnice Příbram a. s. přednosta prim. MVDr. Petr Ježek 2; NRL pro mykobakerie, SZÚ Praha vedoucí MUDr. Marta Havelková, CSc. 3; Referenční laboratoř pro paratuberkulózu a aviární tuberkulózu Výzkumný ústav veterinárního lékařství, Brno vedoucí prof. MVDr. Ivo Pavlík, CSc. 4
Published in: Čes-slov Derm, 83, 2008, No. 6, p. 305-309
Category: Case Reports

Overview
Atypical mycobacteriosis (also called mycobacteriosis) is a non-tuberculous mycobacterial infection caused by opportunistic pathogenic species of mycobacteria. The case of 53-year-old woman with rare sporotrichoid form of skin infection caused by injury after the contact with aquarium fish followed by formation of multiple nodules with abscesses is presented. Histological examination supported the diagnosis of mycobacteriosis. After four months of unsuccessful antimicrobial therapy the causative agent Mycobacterium marinum was isolated. The patient was treated for eleven months with combined antibacterial therapy with ciprofloxacin and ethambutol based on the agent drug sensitivity on cultivation and surgical excisions of small persistent lesions. Difficulties in diagnostics and therapy, often due to failed isolation of the causative agent, are presented. Optimal targeted therapy is based on the sensitivity of isolated strain to antituberculotic and other antibacterial agents.

Key words:
atypical mycobacteriosis – sporotrichoid form – Mycobacterium marinum – diagnosis – targeted therapy
---
Sources
1. ANG, P., RATTANA-APIROMYAKIJ,N., GOH, CL. Retrospective study of Mycobacterium marinum skin infections. Int J Dermatol, 2000, 39(5), p.343-347.
2. BARTRALOT, R. et al. Cutaneous infections due to nontuberculous mycobacteria: histopathological review of 28 cases. J Cutan Pathol, 2000, 27, p.124-129.
3. BEDNÁŘ, M. a kol. Rod mycobacterium, Lékařská mikrobiologie, Praha: nakladatelství Marvil 1996, s. 305-316.
4. BRAUN-FALCO, O., PLEWIG, G., WOLFF, H. Swimming pool granuloma, Dermatológia a venerológia, vydavatelstvo Osveta, Martin, 2001, s. 216-217.
5. CANIBALOVÁ, J., CANIBAL, M., KAUSTOVÁ, J. Málo obvyklý případ kožního onemocnění vyvolaného Mycobacterium marinum. Čes.-slov. Derm, 2004, 79(4), p. 144-147.
6. CASSETTY, CHT., SANCHEZ, M. Mycobacterium marinum infection. Dermatology Online Journal, 2004, V. 10, No. 3., www.dermatology.cdlib.org/103.
7. CUMMINS, DL., DELACERDA, D., TAUSK, FA. Mycobacterium marinum with different responses to second-generation tetracyclines. Int J Dermatol, 2005, 44, p. 518-520.
8. DODIUK-GAD, R. et al. Nontuberculous mycobacterial infections of the skin: A retrospective study of 25 cases. J Am Acad Dermatol, 2007, V. 57, No. 3, p. 413-420.
9. HO, MH., HO, CK., CHONG, LY. Atypical mycobacterial cutaneous infections in Hong Kong: 10-year retrospective study. Hong Kong Med J, 2006, V. 12, No. 1, p.21-26.
10. LOVEČKOVÁ, Y. a kol. Kožní infekce vyvolaná Mycobacterium marinum. Klinická mikrobiologie a infekční lékařství, 2004, 1, s. 30-32.
11. NOVOTNÝ, L., MÁTLOVÁ, L., PAVLÍK, I. Mykobakterióza ryb jako zoonóza. Prakt Lék, 2004, 84(5), s. 247-249.
12. PEARSON, SH., SHENENBERGER, DW. Painful Erythematous Nodules, Am Fam Physician, 2007, V. 76, No. 5., p.697-698.
13. SCIACCA-KIRBY, J., KIM, E., JAFFER, S. Mycobacterium marinum infection of the skin, 2006, www.emedicine.com.
14. VIKTORINOVÁ, M. a kol. Sporotrichoidní forma infekce Mycobacterium marinum, Čes.-slov. Derm, 2004, 79(1), p.17-20.
Labels
Dermatology & STDs
Paediatric dermatology & STDs
---
Article was published in
Czech-Slovak Dermatology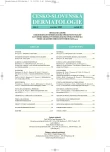 ---
Most read in this issue
This topic is also in:
---