Benign Symmetric Lipomatosis Launois-Bensaude
---
Authors: D. Horváth ; K. Pizinger
Authors' workplace: Dermatovenerologická klinika LFUK a FN Plzeň přednosta prof. MUDr. K. Pizinger, CSc.
Published in: Čes-slov Derm, 83, 2008, No. 3, p. 136-139
Category: Case Reports

Overview
Authors describe 4 cases of rare benign symmetric lipomatosis observed during one year. The disease is characterized by massive fatty deposits mainly in the shoulders, elbows, thighs and neck. All cases were associated with combined dyslipidaemia and the onset was preceded by liver stress. The disease is often associated with alcoholism, hepatopathy, impaired glucose tolerance, hyperuricaemia and malignant tumours.

Key words:
Madelung's disease – lipomatosis cervicalis – Launois-Bensaude syndrome – symmetric adenolipomatosis
---
Sources
1. AMON, U., YAGUBOGLU R., REINAUER, S., RUZICKA, T., SCHMOLKE, B., KREUSCH, J., WOLFF, HH. Abdominelle Variante einer benignen symetrischen Lipomatose Launois-Bensaude. Hautarzt, 1995, 46, s. 722-725.
2. BRAUN-FALCO, O., PLEWIG, G., WOLFF, HH. Dermatology, Second Edition, Berlin, Springer, 2000, p.1583-1584.
3. DARSONAL, V., DULY, T., MUNIN, O., HOETE, JF. Surgical treatment of Launois Bensaude disease. The value of liposuction. Ann Chir Plast Esthet, 1990, 35, p. 128-133.
4. ENZI, G., INELMEN, EM., BARITUSSIO, A., DORIGO, P., PROSDOMICI, M., MAZZOLENI, F. Multiple symmetric lipomatosis. A defect in adrenergic-stimulated lipolysis. J Clin Invest, 1977, 60, p. 1221-1229.
5. HAUPTLI, W., STAHELIN, HB., GYR, K., BIANCHI, L. Die benigne symmetrische Lipomatose: ein Symptom der aethylischen Hepatopathie? Schweiz Med Wochenschr, 1979, 109 (suppl 9), s. 1-18.
6. KODISH, ME., ALSEVER, RN., BLOCK, MB. Benign symmetric lipomatosis: functional sympathetic denervation of adipose tissue and possible hypertrophy of brown fat. Metabolism, 1974, 23, p. 937-945.
7. RUZICKA, T., VIELUF, D., LANDTHALER, M., BRAUN-FALCO, O. Benign symmetric lipomatosis Launois-Bensaude. J Am Acad Dermatol, 1987, 17, p. 663-674.
8. SIMOVIC, I., BOJANIC, P. Launois-Bensaude syndrome (Madelung's disease). Dermatol Online J, 2001, 7(2): 9.
9. ŠTORK, J., SCHOVANEC, J., HAINER, V., ŠURAŇ, R: Benigní symetrická lipomatóza Launois-Bensaude. Popis případu. Čs. Derm, 1997, 72, s. 20-23.
10. VOZMEDIANO, JF., ARMARIO-HITA, J. Benign symmetric lipomatosis (Launois-Bensaude syndrome). Int J Dermatol, 2005, 44, p. 236.
Labels
Dermatology & STDs
Paediatric dermatology & STDs
---
Article was published in
Czech-Slovak Dermatology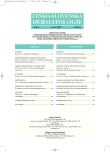 ---
Most read in this issue
This topic is also in:
---