Extrascleral Overgrowth of Malignant Choroidal Melanoma after Endoresection
---
Authors: A. Furdová; P. Strmeň; Z. Oláh; Z. Svetlošáková; P. Kusenda
Authors' workplace: Klinika oftalmológie Lekárskej fakulty Univerzity Komenského a Univerzitnej nemocnice, Nemocnica Ružinov, Bratislava, prednosta doc. MUDr. Krásnik Vladimír, PhD.
Published in: Čes. a slov. Oftal., 68, 2012, No. 4, p. 163-168
Category: Case Report

Overview
Objective:
Course of progression of the malignant choroidal melanoma diagnosed in T2 stage up to stage T4 with infiltration of the orbit. Case report 41 year old patient identified with intraocular malignant melanoma in the year 2005, documentation of disease progression and disease.

Access to treatment of intraocular malignant melanoma in stage T1 - T2 in the last decade has changed from a radical approach (enucleation) towards conservative treatment (brachytherapy, radiosurgical methods) or combined procedures (pars plana vitrectomy and endoresection followed by irradiation or addition of laser treatment). Currently, more than 60% of uveal melanoma is treated by brachytherapy or radiosurgical techniques and combined procedures.

Case report:
A 41 years old female patient with malignant melanoma in the choroid stage T2 since 2005. The volume of the tumor was 0.9 cm3, maximal elevation was over 12 mm. The patient refused a radical treatment (primary enucleation). Due to the stage of the melanoma she was recommended to stereotactic radiosurgery and combined therapy. She underwent stereotactic radiosurgery (TDmax – total dose of 35.0 Gy) in 2005. In 2006 pars plana vitrectomy with incomplete endoresection of the tumor and silicon oil instillation was done. In 2006–2007 appeared bleeding into the anterior chamber and she underwent three times an anterior chamber lavage in another department with subsequent development of secondary glaucoma. In January 2010 patient came to our department with the local finding of malignant melanoma in stage T4 with epibulbar growth process and the infiltration of the orbit. In the period have been found two solid liver metastases. Indicated exenteration of the orbit, histopathologically confirmed mixed cell type malignant melanoma.

Conclusion:
Progression of malignant melanoma after incomplete endoresection despite previous radiosurgical treatment can be very rapid in the course of the disease documented by ultrasound, computed tomography and magnetic resonance. The patient subsequently passed to another workplace and underwent repeated lavage of the vitreous cavity. During endoresection is opened the package fibrous mesh gateway for the infiltration process in the cavity of the orbit and epibulbar space. In the case of residual melanoma after endoresection even though the tumor was irradiated before the procedure the melanoma might progress very fast into the surrounding tissues.

Key words:
malignant melanoma of the choroid, endoresection, stereotactic radiosurgery, exenteration of the orbit
---
Sources
1. Barraquer, E.J.: Combined pars plana vitrectomy and partial sclerouvectomy for ciliar body and choroidal tumors. Ophthalmic Res, 1999; 31/S1: s. 116.
2. Bechrakis, N.E., Höcht, S., Martus, P., et al.: Endoresection following proton beam irradiation of large uveal melanomas. Ophthalmologe, 2004; 101(4): 370–376.
3. Bornfeld, N., Talies, S., Anastassiou, G., et al.: Endoresection maligner Melanome der Uvea nach praoperativer stereotaktischer Einzeldosis-Konvergenzbestrahlung mit dem Leksell-Gamma-knife. Ophthalmologe, 2002; 99: s. 338–344.
4. Cohen, V.M.L., Carter, M.J., Kemeny, A., et al.: Metastasis-free survival following treatment for uveal melanoma with either stereotactic radiosurgery or enucleation. Acta Ophthalmol Scand, 2003; 81: 383–388.
5. Damato, B., Lecuona, K.: Conservation of eyes with choroidal melanoma by a multimodality approach to treatment. An audit of 1632 patients. Ophthalmology, 2004; 111: s 977–983.
6. Damato, B.E.: Ocular Tumors: Diagnosis and Treatment. Elsevier, 1999: 256.
7. Dieckmann, K., Georg, D., Zehetmayer, M., et al.: LINAC based stereotactic radiotherapy of uveal melanoma: 4 years clinical experience. Radiother Oncol, 2003; 67: 199–206.
8. Edge, S.B., Byrd, D.R., Compton, C.C., et al.: AJCC Cancer Staging Handbook. New York, Springer, 2010: 730 p.
9. Furdová, A., Chorváth, M., Waczulíková, I., et al.: No differences in outcome between radical surgical treatment (enucleation) and stereotactic radiosurgery in patients with posterior uveal melanoma. Neoplasma, 2010; 57 (4): 377–381.
10. Furdova, A., Chynoransky, M., Krajcova, P.: Orbital melanoma. Bratisl Lek Listy, 2011; 112 (8): s 466–468.
11. Furdová, A., Oláh, Z.: Prežívanie pacientov s malígnym melanómom uvey. Čs Oftalmol, 1995; 51 (5): 289–292.
12. Furdová, A., Oláh, Z.: Malígny melanóm v uveálnom trakte, Asklepios, Bratislava, 2002: 175 s.
13. Furdová, A., Oláh, Z.: Nádory oka a okolitých štruktúr, CERM, Brno, 2010: 151 s.
14. Furdova, A., Strmen, P., Sramka, M.: Complications in patients with uveal melanoma after stereotactic radiosurgery and brachytherapy. Bratislava Medical Journal – BLL, 2005; 106 (12): 401–406.
15. Furdova, A., Strmen, P., Waczulikova, I., et al.: One-day session LINAC-based stereotactic radiosurgery of posterior uveal melanoma. Eur J Ophthalmol, 2012; Mar, 22 (2): s 226–35.
16. Garcia-Arumi, J., Sararols, L., Martinez, V., et al.: Vitreoretinal surgery and endoresection in high posterior choroidal melanomas. Retina, 2001; 21: 445–452.
17. Modorati, G., Miserocchi, E., Galli, L., et al.: Gamma knife radiosurgery for uveal melanoma: 12 years of experience. Br J Ophthalmol, 2009; 93 (1): 40–44.
18. Mueller, A.J., Schaller, U., Talies, S., et al.: Stereotaktische Konvergenz-bestrahlung grosser uvealer Melanome mit dem Gamma-knife. Ophthalmologe, 2003; 100: s 122–128.
19. Oláh, Z., Furdová, A., Pecháň, J., a kol.: Významnosť diagnostických postupov pri malígnom melanóme uvey. Slovenský lekár, 1994; 4 (1–2): s 29–32.
20. Pochop, P., Pilbauer, J., Křepelková, J., a kol.: Dva roky zkušeností s léčbou Leksellovým gama nožem, Česká a slovenská oftalmologie, 54, 1998, 42 (4), s. 222-234.
21. Prečinský, P., Oláh, Z., Furdová, A.: B-scan sonografia malígneho melanómu chorioidey. Čes-Slov Radiol, 1993; 47 (2): s 107–112.
22. Shields, J.A., Shields, C.L.: Intraocular tumors: an atlas and textbook. Kluwer Health, Lippincott Williams & Wilkins, 2007: 574 p.
23. Strmeň, P., Furdová, A.: K liečbe malígnych melanómov chorioidey transpupilárnou termoterapiou diódovým laserom, Čes a Slov Oftalmol, 1999; 55 (3): 176–180.
24. Strmeň, P., Šramka, M., Schreinerová, P., a kol.: Stereotaktická rádiochirurgická a kombinovaná liečba malígnych melanómov uvey. Transacta Ophthalmologica Slovaca, 2004; 4 (1): 15–23.
25. Tokošová, E.: Malígny melanóm uvey. Doktorandská dizertačná práca v odbore oftalmológia, Masarykova Univerzita, Brno, 2007, 78 s.
Labels
Ophthalmology
---
Article was published in
Czech and Slovak Ophthalmology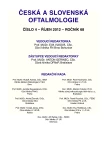 ---
Most read in this issue
This topic is also in:
---