Evaluation of Clinical Manifestations in Multiple Sclerosis
---
Authors: K. Řasová
Authors' workplace: Klinika rehabilitačního lékařství, 3. LF UK a FNKV v Praze
Published in: Rehabil. fyz. Lék., 24, 2017, No. 1, pp. 50-54.
Category: Review Article

Overview
This review article brings a survey of possibilities to examine patients with multiple sclerosis in physiotherapy.

Keywords:
multiple sclerosis, examination set of clinical functions, muscular weakness, balance, functions f upper extremities, cognitive functions, walking
---
Sources
1. ALUSI, S. H. et al.: Evaluation of three different ways of assessing tremor in multiple sclerosis. . Neurol. Neurosurg Psychiatry, 68, 2000, 6, s. 756-760.
2. BAERT, I. et al.: Responsiveness and clinically meaningful improvement, According to disability level, of five walking measures After rehabilitation in multiple sclerosis: A European Multicenter Study. Neurorehabil Neural Repair, 28, 2014, 7, s. 621-631.
3. BAIER, M. L. et al.: Low-contrast letter acuity testing captures visual dysfunction in patients with multiple sclerosis. Neurology, 64, 2005, 6, s. 992-995.
4. BOHANNON, R. W., SMITH, M. B.: Interrater reliability of a modified Ashworth scale of muscle spasticity. Phys. Ther, 67, 1987, 2, s. 206-207.
5. BOVEND'EERDT, T. J. et al.: Writing SMART rehabilitation goals and achieving goal attainment scaling: a practical guide. Clin. Rehabil., 23, 2009, 4, s. 352-361.
6. COLLIN, C. W. D.: Assessing motor impairment after stroke: a pilot reliability study. J. Neurol. Neurosurg. Psychiatry, 53, 1990, 7, s. 576-579.
7. DAVIES, P. M.: A guide to the treatment of adult hemiplegia. Based on the Concept of K. and B. Bobath. Berlin, SPRINGER-Verlag. Berlin, 1993.
8. GIJBELS, D. et al.: Predicting habitual walking performance in multiple sclerosis: relevance of capacity and self-report measures. Mult. Scler., 16, 2010, 5, s. 618-626.
9. GIJBELS, D. et al.: Which walking capacity tests to use in multiple sclerosis? A multicentre study providing the basis for a core set. Multiple Sclerosis Journal, 18,( 2012, 3, s. 364-371.
10. HAIGH, R. et al.: The use of outcome measures in physical medicine and rehabilitation within Europe. J. Rehabil. Med., 33, 2001, 6, s. 273-278.
11. HEESEN, C. et al.: Patient perception of bodily functions in multiple sclerosis: gait and visual function are the most valuable. Mult Scler, 14, 2008, 7, s. 988-991.
12. HOBART, J. C. et al.: Measuring the impact of MS on walking ability: the 12-Item MS Walking Scale (MSWS-12). Neurology, 60, 2003, 1, s. 31-36.
13. JANDA, V.: Základy kliniky funkčních (neparetických) hybných poruch. Brno, Ústav pro další vzdělávání stř. zdravot. pracovníků, 1984.
14. KURTZKE, J. F.: Rating neurologic impairment in multiple sclerosis: an expanded disability status scale (EDSS). Neurology, 33, 1983, 11, s. 1444-1452.
15. PALTAMAA, J.: Assessment of physical functioning in ambulatory persons with multiple sclerosis. Aspects of reliability, responsiveness, and clinical usefullness in the ICF framework. Vammala, 2008.
16. RASOVA, K. et al.: Assessment set for evaluation of clinical outcomes in multiple sclerosis: psychometric properties. Patient related outcome measures, 3, 2012, s. 59-70.
17. RINGEL, I., Zettl, U. K.: Estimates of the walking distance in multiple sclerosis patients and their effect on the EDSS. J. Neurol., 253, 2006, 5, s. 666-667.
18. ŘASOVÁ, K.: Fyzioterapie u neurologicky nemocných (se zaměřením na roztroušenou sklerózu mozkomíšní). Prague, CEROS, 2007.
19. SOLARI, A. et al.: The multiple sclerosis functional composite: different practice effects in the three test components. J. Neurol. Sci., 228, 2005, 1, s. 71-74.
20. ŠVEHLÍK, M., Z. E. B., STEINWENDER G., KRAUS T., LINHART W. E.: Přístrojová analýza chůze u pacientů s dětskou mozkovou obrnou. Neurologie pro praxi, 12, 2011, 4, s. 230-233.
21. VÉLE, F.: Kineziologie pro klinickou praxi. Praha, Grada, 1997.
Labels
Physiotherapist, university degree
Rehabilitation
Sports medicine
---
Article was published in
Rehabilitation and Physical Medicine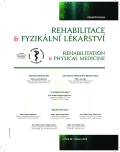 ---
Most read in this issue
This topic is also in:
---