Artificial Sphincter in Patients with Congenital Anorectal Malformations
---
Authors: J. Hoch 1; R. Škába 2; Z. Jech 1
Authors' workplace: Chirurgická klinika UK 2. LF a FN Praha-Motol, přednosta: prof. MUDr. J. Hoch, CSc. 1; Klinika dětské chirurgie UK 2. LF a FN Praha-Motol, přednosta: prof. MUDr. J. Šnajdauf, DrSc. 2
Published in: Rozhl. Chir., 2007, roč. 86, č. 4, s. 170-173.
Category: Monothematic special - Original

Overview
Fecal incontinence represents one of consequences of congenital anorectal malformations (CAM) which continues in some patients even after surgeries performed due to malformation and reconstructions. Implantation of artificial bowel sphincter (ABS) is a new solution not proved in daily practice.

The aim of the study is to prove the ABS implantation as a feasible solution even in young adults after CAM, which have never been continent, and to verify ABS implantation as a suitable solution.

Group of patients:
11 patients in the age between 18–25 y. were enrolled. 6 patients refused, 5 patients were operated on. 2 ABS implantations were performed. Due to perforation of rectal wall in 1 patient the implantation was postponed. In 2 patients preparative surgeries were performed.

Results:
2 patients with ABS implantation and 2 ones after prep surgeries healed primarily. Both ABS are fully functional. Special care is needed to adopt a new defecation habits. Patients with ABS registered increase of QOL score; all pts operated on are both of high motivation and satisfaction.

Key words:
fecal incontinence – congenital anorectal malfomations – artificial bowel sphincter
---
Sources
1. Devesa, J. M., Rey, A., Hervas, P., et al. Artificial anal sphincter. Dis. Colon Rectum, 2002, 45, s. 1154–1163.
2. Dodi, G., Melega, E., Massin, A., et al. Artificial bowel sphincter (ABS) for severe feacal incontinence: a clinical and manometric study. Colorectal Dis., 2000, 2, s. 207–210.
3. Hoch, J., Škába, R. Artificial bowel sphincter in patients with anorectal malformation. (Initial experience). Colorectal Disease, 8, (Suppl. 4), s. 20.
4. Holschneider, A. M., Jesch, N. K., Stragholz, E., et al. Surgical methods for anorectal malformations from Rehbein to Pena. Critical assessment of score systems and proposal for a new classification. Eur. J. Pediatr. Surg., 2002, 12, s. 73–52.
5. Christiansen, J., Lorentzen, M. Implantation of artificial sphincter for anal incontinence. Lancet, 1987, 2, s. 244–245.
6. Christiansen, J., Sparso, B. Treatment of anal incontinence by an implantable prosthetic anal sphincter. Ann. Surg., 1992, 4, s. 383–386.
7. Jorge, J. M. N., Habr-Gama, A., Yusuf, A.-S. The artificial anal sphincter for anal incontinence: Initial experience. Dis. Colon Rectum, 2002, 3, s. A14.
8. Kelly, J. H. Cineradiography in anorectal malformations. J. Ped. Surg., 1969, 4, s. 538–546.
9. Lehur, P.-A., Zerbib, F., Neunlist, M., et al. Comparison of quality of life and anorectal function after artificial sphincter implantation. Dis. Colon Rectum, 2002, 45, s. 508–513.
10. Whitehead, W. E., Wald, A., Norton, N. J. Treatment options for faecal incontinence. Dis. Colon rectum, 2001, 44, s. 131–144.
11. Wong, W. D., Congliosi, S. M., Spencer, M. P. The safety and efficacy of the artificial bowel sphincter for fecal incontinence. Dis. Colon Rectum, 2002, 45, s. 1139–1153.
Labels
Surgery
Orthopaedics
Trauma surgery
---
Article was published in
Perspectives in Surgery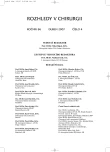 ---
Most read in this issue
This topic is also in:
---