Internal medicine and cardiology, internists and cardiologists
---
Authors: M. Štejfa
Authors' workplace: I. interní kardio-angiologická klinika Lékařské fakulty MU a FN u sv. Anny Brno, přednosta prof. MUDr. Jiří Vítovec, CSc., FESC
Published in: Vnitř Lék 2011; 57(3): 239-242
Category: 60th birthday of prof. Mudr. Jiřího Vítovce, CSc, FESC

Overview
A retrospective on the development of internal medicine as a base from which other specific fields of medicine, including cardiology as one of the largest, branched as consequence of technological progress and transformation from an empirical to a scientific discipline. Similar to the internal medicine tree, cardiology also branches into a number of subspecialities. This is because no one human brain has a capacity to remember and know everything. This has also resulted in a segregation of the operational curricula of internal medicine physicians and cardilogists. However, a close collaboration of all the disciplines is essential as it is the very same patient who is the focus of them all.

Key words:
internal medicine – cardiology – internists – cardiologists
---
Sources
1. Rosolová H. Zamyšlení nad hodnocením vědy a vědců. Cor Vasa 2010; 52: 539–540.
2. Štejfa M. Klinické studie, Evidence--Based Medicine a prospěch pacienta. Kardiol Rev 1999; 3: 125.
3. Štejfa M. Hippokrates z Kosu. Kardiol Rev 2003; 4: 157–158.
4. Štejfa M. Zamyšlení nad internou. Vnitř Lék 2009; 55: 696–701.
5. Pacovský V. Internistická moudrost – matka celé klinické medicíny. Metamorfózy internistova myšlení a praktického konání. Vnitř Lék 2008; 54: 935–936.
6. Jerie P. Personalisovaná medicína a snaha o lepší klinické rozhodování. Kardiol Rev 2010; 12: 108.
7. Sovová E. Edukace pacientů jako základ zlepšení prognózy pacienta s kardiovaskulárním onemocněním. Cor Vasa 2009; 51: 834–835.
8. Štejfa M. Kardiologie – jak jsem ji viděl a jaká je. Cor Vasa 2009; 51: 673–674.
9. Štejfa M. Zamyšlení nad současnou kardiologií. Cor Vasa 2009; 51: 430–431.
10. Štejfa M. Kardiovaskulární patologie ve stáří – geriatrická kardiologie. Kardiol Rev 2002; 3: 151.
Labels
Diabetology
Endocrinology
Internal medicine
---
Article was published in
Internal Medicine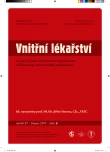 ---
Most read in this issue
This topic is also in:
---