Cardiac complications of subarachnoidal haemorrhage.
---
Authors: O. Myslivec 1; T. Kos 2; R. Surovčík 3; M. Pokorný 1; F. Paďour 1; P. Niederle 4
Authors' workplace: I. interní oddělení FN na Bulovce Primář: MUDr. František Paďour 1; Radiagnostická klinika 1. LF UK FN na Bulovce Přednosta: prof. MUDr. Josefa Bohutová, DrSc. 2; Kardiologie na Bulovce s. r. o. Primář: MUDr. Pavel Jebavý, CSc. 3; Kardiologické oddělení Nemocnice na Homolce Primář: Prof. MUDr. Petr Niederle, DrSc. 4
Published in: Prakt. Lék. 2007; 87(7): 428-432
Category: Case Report

Overview
The risk factors for ischemic heart disease are generally known and, in the case of arterial hypertension, smoking and alcohol abuse are also commensurate with the main etiopathogenetic factors of non-traumatic cerebral haemorrhage. Concurrently, incidents of acute haemorrhagic ictus and acute coronary syndrome are rare in clinical practice. We present the case of a 61 year old male patient with sudden loss of consciousness and circulatory arrest. The cause was extensive subarachnoidal bleeding complicated by ventricular fibrillation concurrently with transitory myocardial ischemia, which manifested as acute coronary syndrome with elevated ST segments. We point out the dangers which can arise during the diagnosis and treatment of an unconscious patient with circulatory arrest and stress the cardiac complications attendant with acute cases of subarachnoidal haemorrhage.

Key words:
subarachnoidal haemorrhage, acute coronary syndrome, atrial fibrillation, ischaemic heart disease.
---
Labels
General practitioner for children and adolescents
General practitioner for adults
---
Article was published in
General Practitioner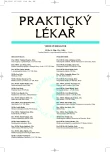 ---
Most read in this issue
This topic is also in:
---