The Importance of Atopy Patch Tests in the Diagnostic Procedure in Patients with Atopic Dermatitis
---
Authors: M. Nečas ; E. Dastychová
Authors' workplace: 1. dermatovenerologická klinika LF MU a FN U sv. Anny v Brně přednosta doc. MUDr. Vladimír Vašků, CSc.
Published in: Čes-slov Derm, 82, 2007, No. 5, p. 254-259
Category: Clinical and laboratory Research

Overview
It is known that airborn allergens (aeroallergens) may elicit the flare of atopic dermatitis (AD) at least in a subgroup of patients. A diagnostic method consisting of a direct exposition of the atopic skin to airborn allergens has been introduced recently. This method is called atopy patch tests (APT). Between November 2004 and April 2006 a group of 100 patients (26 males and 74 females) with atopic dermatitis aged from 16 to 70 years was investigated by atopy patch tests in the dermatoallergological clinic of the 1st Dept. of Dermatovenereology of the St. Anna Faculty Hospital in Brno.

In 32 (32 %) patients the APT were positive, in 68 (68 %) negative. The most common allergens were the house dust mite allergens (13 %), the second were the grass and plant pollen (12 %) and the dog allergens were on the third place (10 %).

The correlation of the results of APT with the history of atopic dermatitis flares after airborn allergens exposition in patients' history was higher in APT (66 %) than in specific IgE (42 %). The identification of aeroallergens as possible triggering factors of atopic dermatitis with atopy patch tests thus could be very useful.

Key words:
atopic dermatitis – aeroallergens – atopy patch tests
---
Labels
Dermatology & STDs
Paediatric dermatology & STDs
---
Article was published in
Czech-Slovak Dermatology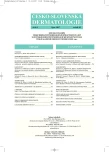 ---
Most read in this issue
This topic is also in:
---