Relationship between the Duration of Exclusive and Total Breastfeeding in Pediatric General Practice during Period of 1985–2001
---
Authors: K. Bajerová ; H. Hrstková
Authors' workplace: I. dětská interní klinika LF MU a FN Brno, Pracoviště dětské medicíny přednostka prof. MUDr. H. Hrstková, CSc.
Published in: Čes-slov Pediat 2009; 64 (1): 18-21.
Category: Original Papers

Overview
Objective:
To demonstrate the relation between the duration of total and exclusive breastfeeding and to find out whether their difference raised up in the period of 1985–2001.

Group:
We enrolled data of 529 children who were registered at the pediatric general practitioner's ambulatory during period of 1985–1986 (132 children), 1990–1991 (113), 1995–1996 (133) and 2000–2001 (151). A standardized health documentation of pediatric general practice was the source of the data.

Methods:
We calculated the difference of duration of total and exclusive breastfeeding of each child. We obtained Δk, so that we were able to analyze the dependence of Δk on the duration of exclusive breastfeeding. The statistical processing used the Kruskal-Wallis test, Spearman coefficient, the level of significance was p≤0.05.

Results:
In the observed age groups there was a gradual increase in the difference between the exclusive and total breastfeeding duration (p≤0.001). The greatest difference of Δk was found in cases of exclusive breastfeeding >6 months, whereas in children exclusively breastfed <4 months the lowest Δk was found.

Conclusion:
Comparing the difference between the total and exclusive breastfeeding duration in our group and subsets characterized by the year of child's birth we found out, that the value of the difference was increasing among individual subsequently following groups. The duration of exclusive breastfeeding shorter than 4 months represents a risk factor.

Key words:
exclusive breastfeeding duration, total breastfeeding duration, difference between the duration of exclusive and total breastfeeding
---
Sources
1. Michaelsen KF, Weaver L, Branca F,, Robertson F. Feeding and Nutrition of Infants and Young Children. Copenhagen: WHO, 2000.
2. Frühauf P, Nevoral J, Paulová M. Výživa novorozenců a kojenců: současný pohled. Néstlé Nutrition, 2003: 31–36.
3. Nevoral J, a kol. Výživa v dětském věku. 1. vyd. Praha: Nakladatelství H&H, 2003: 63–80.
4. Frühauf P. Komplementární výživa kojenců a batolat. Pediatrie po Promoci 2004;2: 42–45.
5. Haiek LN, Dionne S. Breast is best for more than 6 months. CMAJ 2002;167: 631–633.
6. Klimová A, Brázdová Z, Mydlilová M, Paulová M, Šulcová E. Kojit? A jak? Národní program podpory zdraví, 2000: 54–56.
7. Kudlová E, Rameš J. Hodnocení výživy pražských kojenců podle ukazatelů doporučených Světovou zdravotnickou organizací. Čes.-slov. Pediat. 2000;1: 16–20.
Labels
Neonatology
Paediatrics
General practitioner for children and adolescents
---
Article was published in
Czech-Slovak Pediatrics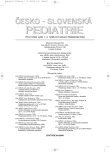 ---
Most read in this issue
This topic is also in:
---