Cardiocerebral resuscitation: For laymen without ventilation?
---
Authors: A. Truhlář 1,2; V. Černý 1
Authors' workplace: Klinika anesteziologie, resuscitace a intenzivní medicíny, LF UK a Fakultní nemocnice Hradec Králové 1; Zdravotnická záchranná služba Královéhradeckého kraje, Letecká záchranná služba Hradec Králové 2
Published in: Anest. intenziv. Med., 18, 2007, č. 6, s. 357-363
Category: Intensive Medicine

Overview
The authors present a review of the current literature on basic life support without mouth-to-mouth ventilation (cardiocerebral resuscitation). The historic rationale for the integration of mouth-to-mouth breathing into cardiopulmonary resuscitation and its controversial role in relation to the pathophysiology of the most frequent circulatory arrests of cardiac origin are discussed. Conclusions of experimental studies, clinical trials and the recent recommendations of resuscitation societies are summarized.

Key words:
resuscitation – cardiopulmonary resuscitation – cardiocerebral resuscitation – ventilation – cardiac arrest
---
Labels
Anaesthesiology, Resuscitation and Inten
Intensive Care Medicine
---
Article was published in
Anaesthesiology and Intensive Care Medicine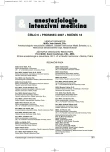 ---
Most read in this issue
This topic is also in:
---