Treatment of an asymptomatic splenic cyst using percutaneous drainage
---
Authors: S. Blažej 1; B. Míková 2; M. Pazdera 1; M. Toběrný 1
Authors' workplace: Chirurgické oddělení Nemocnice Na Homolce, Praha, primář: MUDr. M. Toběrný, MBA 1; Radiodiagnostické oddělení Nemocnice Na Homolce, Praha, primář: Prof. MUDr. J. Vymazal, CSc. 2
Published in: Rozhl. Chir., 2012, roč. 91, č. 6, s. 330-333.
Category: Case Report

Overview
Asymptomatic voluminous splenic cysts can be detected as an accidental finding whereas those with surrounding organs compression might be sought after. After succesful diagnosis a reasonable therapy proceeds. There are two treatment options, either a commonly used surgical management including resection or unroofing of the cyst (a better option), or splenectomy. The authors present two case reports of not revolutionary but yet rarely used splenic cyst drainage and sclerotisation procedure with very good outcomes.

Key words:
splenic cyst – treatment – drainage
---
Sources
1. Morgenstern L. Nonparasitic splenic cysts: Pathogenesis, classification and treatment. J Am Coll Surg 2002;194:306–314.
2. Matutsani T, Uchida E, Yokoyama T, Matsushita A, Matsuda, A., Sasajima, K. Laparoscopic unroofing of a large pseudocyst of the spleen. J Nihon Med Sch 2009;76:319–322.
3. Akhan O, Baykan Z, Oguzkurt I, Sayek I, Özmen MN. Percutaneous treatment of a congenital splenic cyst with alcohol: a new therapeutic approach. Eur Radiol 1997;7:1067–1070.
4. Kostka R, Vernerová Z. Poúrazová pseudocysta sleziny, Rozhl Chir 2010;89:464–468.
5. Herdegen P, Štrupová L, Visokai V, Kostlivý K. Laparoskopické řešení epidermoidní cysty sleziny. Rozhl Chir 2007;86:313–317.
6. Robbins FG, Yellin AE, Lingea RW, Crsig JR, Turrill FL, Mikkelsen WP. Splenic epidermoid cysts. Ann Surg 1978; 187:231–235.
7. Schier F, Haag KL, Ure B. Laparoscopic unroofing of splenic cysts result in a high rate of recurrences. J Pediatr Surg 2007;42:1860–1863.
8. Shimanuki K, Satane, M. Non-surgical treatment of splenic cyst using installation of minocycline chloride. Fukushima J Med Sci 1996;42:23–30.
9. Tůma J, Krafka K, Kopečná L. Laparoskopické výkony na slezině u dětí. Rozhl Chir 2002;81:641–644.
10. Heidenreich A, Canero, A, di Pasquo A. Laparoscopic approach for treatment of a primary splenic cyst. Surg Laparocs Endosc 1996; (6),3:243–246.
11. Sellers GJ, Starker PM. Laparoscopic treatment of a benign splenic cyst. Surg Endosc 1997;11:766–768.
12. Iorga C, Strambu V, Popa F, Puscu C, Radu P. Congenital splenic cyst case study. J Med Life 2011;4:102–104.
13. Fischer JC, Gurubg B, Cowles RA. Recurrence after laparoscopic excision of nonparasitic splenic cysts. J Pediatr Surg 2008;43:1644–1648.
14. Garcia-Hernandez C, Carvajal-Figueroa L, Duenas-Ramirez JC, Landa-Juarez S, Cirugia YC. Treatment of splenic cyst by laparoscopic partial splenectomy: case report. Cir Cir 2010;78:83–85.
Labels
Surgery
Orthopaedics
Trauma surgery
---
Article was published in
Perspectives in Surgery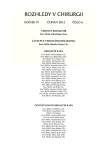 ---
Most read in this issue
This topic is also in:
---