Serious sepsis treatment in intensive care departments in the Czech Republic –  EPOSS Project pilot results
---
Authors: J. Maláska 1; M. Slezák 1; D. Schwarz 17; J. Jarkovský 17; M. Adamus 2; K. Cvachovec 3; V. Černý 4; P. Dostál 4; M. Fořtová 5; E. Havel 6; I. Herold 7; E. Kasal 8; R. Kula 9; J. Maňák 10; M. Matějovič 11; D. Nalos 12; R. Pařízková 4; A. Šobáňová 13; V. Šrámek 14; J. Tichý 9; R. Turek 15; I. Zýková 16; L. Dušek 17; P. Ševčík 9; Za Projekt Eposs:; V. Agalarev 1; P. Bakalík 1; V. Belanová 13; J. Cerman 6; L. Číž 13; L. Dadák 14; J. Duba 1; J. Fortunato 10; T. Gabrhelík 2; R. Gál 1; R. Hůlek 17; O. Hrdý 1; M. Huchý 8; I. Chytra 8; D. Klimeš 17; J. Klučka 1; M. Kratochvíl 1; L. Kosková 1; J. Máca 9; O. Mašlík 15; M. Matysová 9; P. Minarčíková 1; J. Molnárová 15; H. Ondrášková 1; M. Pelichovská 3; J. Polák 4; R. Schwarz 9; J. Stašek 1; E. Straževská 1; H. Suchomelová 1; P. Suk 1; P. Štourač 1; J. Tichý 9; M. Wolfová 15; R. Uvízl 2; H. Zapletalová 13; J. Zatloukal 9; I. Zimová 1
Authors' workplace: Klinika anesteziologie, resuscitace a intenzivní medicíny Lékařské fakulty MU a FN Brno, pracoviště Bohunice, přednosta prof. MU Dr. Roman Gál, Ph. D. 1; Klinika gerontologická a metabolická Lékařské fakulty UK a FN Hradec Králové, přednosta prof. MU Dr. Luboš Sobotka, CSc. 10; I. interní klinika Lékařské fakulty UK a FN Plzeň, přednosta prof. MU Dr. Martin Matějovič, Ph. D. 11; Oddělení intenzivní medicíny Masarykovy nemocnice Ústí nad Labem, o. z., přednosta prim. MU Dr. Daniel Nalos 12; Oddělení intenzivní péče operačních oborů Krajské nemocnice T. Bati, a. s., Zlín, přednostka prim. MU Dr. Anna Šobáňová 13; Anesteziologicko‑resuscitační klinika Lékařské fakulty MU a FN u sv. Anny Brno, přednosta doc. MU Dr. Vladimír Šrámek, Ph. D. 14; Anesteziologicko‑resuscitační oddělení Krajské nemocnice T. Bati, a. s., Zlín, přednosta prim. MU Dr. Radovan Turek 15; Anesteziologicko‑resuscitační oddělení Krajské nemocnice Liberec a. s., přednosta prim. MU Dr. Dušan Morman 16; Institut bio­statistiky a analýz Lékařské a Přírodovědecké fakulty MU Brno, ředitel doc. RNDr. Ladislav Dušek, Ph. D. 17; Klinika anesteziologie, resuscitace a intenzivní medicíny Lékařské fakulty UP a FN Olomouc, přednosta doc. MU Dr. Milan Adamus, Ph. D. 2; Klinika anesteziologie, resuscitace a intenzivní péče 2. lékařské fakulty UK a FN Motol Praha, přednosta prof. MU Dr. Karel Cvachovec, CSc., MBA 3; Klinika anesteziologie, resuscitace a intenzivní medicíny Lékařské fakulty UK a FN Hradec Králové, přednosta prof. MU Dr. Vladimír Černý, Ph. D., FCCM 4; Anesteziologicko‑resuscitační oddělení Pardubické krajské nemocnice, a. s., Pardubice, přednostka prim. MU Dr. Magdalena Fořtová 5; Chirurgická klinika Lékařské fakulty UK a FN Hradec Králové, přednosta prof. MU Dr. Alexander Ferko, CSc. 6; Anesteziologicko‑resuscitační oddělení Oblastní nemocnice Mladá Boleslav, a. s., Mladá Boleslav, přednosta prim. MU Dr. Ivan Herold, CSc. 7; Anesteziologicko‑resuscitační klinika Lékařské fakulty UK a FN Plzeň, přednosta doc. MU Dr. Eduard Kasal, CSc. 8; Anesteziologicko‑resuscitační klinika Lékařské fakulty OU a FN Ostrava, přednosta prof. MU Dr. Pavel Ševčík, CSc. 9
Published in: Vnitř Lék 2013; 59(11): 962-970
Category: Original Contributions

Overview
Introduction:
Severe sepsis is still associated with significant morbidity and mortality, which is however different, as well as its management, depending on the region. What is the situation in the Czech Republic and what is the character of patients with severe sepsis is currently not known. The aim of the project is to describe the processes of care, outcome and characteristics of patients with severe sepsis admitted to the intensive care department of the Czech Republic.

Methods:
This is a multicentre and observational project with retrospective enrollment of patients who meet the criteria for severe sepsis before or within 24 hours after admission to selected intensive care units (ICU‑ EPOSS).

Results:
394 patients were analyzed. Median age at admission was 66 (56– 76) years, males predominated (58.9%) and the median APACHE II score on admission was 25 (19– 32). Patients were predominantly medical (56.9%) and most were secondary admitted from other ICU (53.6%). Meeting the criteria of severe sepsis was most frequently within the period (± 4 hours) of admission the EPOSS‑ ICU (77.6%). Median total fluid intake during the first 24 hours was 6,680 (4,840– 9,450) ml. Most patients required mechanical ventilation (58.4%). Compliance with the resuscitation bundle of severe sepsis in our group was very good and was associated with lower mortality of patients. Most frequently, the EPOSS‑ ICU length of stay (LOS) was 7 (3– 15) days and median hospital LOS was 13 (8– 28) days. Hospital mortality in our cohort was 35.8%.

Conclusion:
Introducing the project, which in its first stage obtained valuable and internationally comparable data about patients with severe sepsis admitted to the involved ICU in the Czech Republic.

Key words:
severe sepsis –  intensive care –  treatment –  process of care –  outcome
---
Sources
1. Vincent JL, Sakr Y, Sprung CL et al. Sepsis in European intensive care units: results of the SOAP study. Crit Care Med 2006; 34: 344– 353.
2. Angus DC, Linde‑ Zwirble WT, Lidicker J et al.Epidemiology of severe sepsis in the United States: analysis of incidence, outcome, and associated costs of care. Crit Care Med 2001; 29: 1303– 1310.
3. Martin GS, Mannino DM, Eaton S et al. The epidemiology of sepsis in the United States from 1979 through 2000. N Engl J Med 2003; 348: 1546– 1554.
4. Chalupka AN, Talmor D. The Economics of Sepsis. Critical Care Clin 2012; 28: 57– 76.
5. Dellinger RP, Levy MM, Carlet JM et al. Surviving Sepsis Campaign: international guidelines for management of severe sepsis and septic shock: 2008. Intensive Care Med 2008; 34: 17– 60.
6. Barochia AV, Cui X, Vitberg D et al. Bundled care for septic shock: An analysis of clinical trials. Crit Care Med 2010; 38: 668– 678.
7. Levy M, Dellinger RP, Townsend S et al. The Surviving Sepsis Campaign: results of an international guideline‑based performance improvement program targeting severe sepsis. Intensive Care Med 2010; 36: 222– 231.
8. Suarez D, Ferrer R, Artigas A et al. Cost‑effectiveness of the Surviving Sepsis Campaign protocol for severe sepsis: a prospective nation‑ wide study in Spain. Intensive Care Med 2011; 37: 444– 452.
9. Reade MC, Huang DT, Bell D et al. Variability in management of early severe sepsis. Emerg Med J 2010; 27: 110– 115.
10. Engel C, Brunkhorst F, Bone HG et al. Epidemiology of sepsis in Germany: results from a national prospective multicenter study. Intensive Care Med 2007; 33: 606– 618.
11. Karlsson S, Varpula M, Ruokonen E et al. Incidence, treatment, and outcome of severe sepsis in ICU‑treated adults in Finland: the Finnsepsis study. Intensive Care Med 2007; 33: 435– 443.
12. Zahorec R, Firment J, Strakova J et al. Epidemiology of Severe Sepsis in Intensive Care Units in the Slovak Republic. Infection 2005; 33: 122– 128.
13. Benes J, Baloun R, Dzupová O. Endocarditis 2007: Results of a multicentric study on occurrence and characteristics of infective endokarditis. Vnitř Lék 2011; 57: 147– 154.
14. Knaus WA, Draper EA, Wagner DP et al. APACHE II: a severity of disease classification system. Crit Care Med 1985; 13: 818– 829.
15. Vincent J, Moreno R, Takala J et al. The SOFA (Sepsis‑related Organ Failure Assessment) score to describe organ dysfunction/ failure. Intensive Care Med 1996; 22: 707– 710.
16. Levy MM, Fink MP, Marshall JC et al. 2001 S­CCM/ ESICM/ ACCP/ ATS/ SIS International Sepsis Definitions Conference. Crit Care Med 2003; 31: 1250– 1256.
17. Calandra T, Cohen J. The International Sepsis Forum Consensus Conference on Definitions of Infection in the Intensive Care Unit. Crit Care Med 2005; 33: 1538– 1548.
18. Vincent JL, Rello J, Marshal J et al. International study of the prevalence and outcomes of infection in intensive care units. JAMA 2009; 302: 2323– 2329.
19. Bernard GR, Vincent JL, Laterre PF et al. Efficacy and safety of recombinant human activated protein C for severe sepsis. N Engl J Med 2001; 344: 699– 709.
20. Levy MM, Artigas A, Phillips GS et al. Outcomes of the Surviving Sepsis Campaign in intensive care units in the USA and Europe: a prospective cohort study. Lancet Infect Dis 2012; 12: 919– 924.
21. Rivers E, Nguyen B, Havstad S et al. Early goal‑ directed therapy in the treatment of severe sepsis and septic shock. N Engl J Med 2001; 345: 1368– 1677.
22. Boyd JH, Forbes J, Nakada T et al. Fluid resuscitation in septic shock: A positive fluid balance and elevated central venous pressure are associated with increased mortality. Crit Care Med 2001; 39: 259– 265.
23. Myburgh JA, Finfer S, Bellomo R et al. Hydroxyethyl Starch or Saline for Fluid Resuscitation in Intensive Care. N Engl J Med 2012; 367: 1901– 1911.
24. Castellanos‑ Ortega A, Suberviola B, Garcia‑ Astudillo LA et al. Impact of the Surviving Sepsis Campaign protocols on hospital length of stay and mortality in septic shock patients: results of a three‑year follow‑up quasi‑ experimental study. Crit Care Med 2010; 38: 1036– 1043.
25. Perner A, Haase N, Guttormsen AB et al. Hydroxyethyl Starch 130/ 0.42 versus Ringer's Acetate in Severe Sepsis. N Engl J Med 2012; 367: 124– 134.
26. Cerny V, Novak I, Sramek V. Prevalence těžké sepse v České republice –  prospektivní multicentrická jednodenní studie. Anest Intenziv Med 2003; 15: 218– 222.
Labels
Diabetology
Endocrinology
Internal medicine
---
Article was published in
Internal Medicine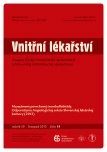 ---
Most read in this issue
This topic is also in:
---