Morning and evening chronotypes in rheumatoid arthritis
---
Authors: V. Kutal
Authors' workplace: Revmatologická ambulance, Brno
Published in: Čes. Revmatol., 21, 2013, No. 2, p. 81-85.
Category: Original Papers

Overview
Morning, neutral or evening chronotypes (diurnal preference) are the basic characteristics of a human being. They are associated with quantitative and temporal changes in secretion of cortisol, IL-6 and melatonin, and play a significant role in the course, and probably, even in the development of rheumatoid arthritis. Thus, the author analyzed the effect of diurnal preference on the prevalence of rheumatoid arthritis. In the analyzed group of 154 patients with rheumatoid arthritis, there were 59.1% morning chronotypes, 35.1% neutral chronotypes and 5.8% evening chronotypes. The control group of 70 individuals without an inflammatory rheumatic disease comprised 37.1% morning, 50.0% neutral and 12.9% evening chronotypes. The larger proportion of morning chronotypes in rheumatoid arthritis was statistically significant (t<0.05). The preference of morning chronotypes in rheumatoid arthritis may be explained by different proportions in the timing of secretion of cortisol, cytokines and melatonin in particular chronotypes.

Key words:
Rheumatoid arthritis, chronobiological rhythms, cytokines, melatonin, inflammatory activity
---
Sources
1. Illnerová H, Sumová A. Vnitřní časový systém. Interní Med 2008; 10: 350-352.
2. Cutolo M, Seriolo B, Craviotto C, Pizzoini C, Sulli A. Circadian rythms in RA. Ann Rheum Dis 2003; 62: 593-596.
3. Cutolo M, Maestroni GJM. The melatonin-cytokine connection in rhematoid arthritis. Ann Rheum Dis 2005; 64: 1109-1111.
4. Cutolo M, Straub RH. Insights into endokrine-immunological distubances in autoimmunity and their impact on treatment. Arthritis Res Ther 2009; 11(2): 218.
5. Skočovský KD. Psychometrické vlastnosti české verze Dotazníku ranních a večerních typů (MEQ). In: Svoboda M, Humpolíček P, Humpolíčková J (Eds). Sociální procesy a osobnost. Brno: Psychologický ústav FF MU v Brně; 2003: 260-267.
6. Skočovský KD. Chronopsychologie: Výzkum rytmicity v lidském chování a prožívání. Československá psychologie 2004; 48: 69-83.
7. Koskenvuo M, Hublin C, Partinen M, Heikkila M, Kaprio J. Heritability of diurnal type: a nationwide study of 8753 adult twin pairs. J Sleep Res 2007; 16: 156-162.
8. Paine SJ, Gander PH, Travier N. The epidemiology of morningness/eveningness: influence of age, gender, ethnicity and socioeconomic factors in adults (30-49 years). J Biol Rhytms 2006; 26: 68-76.
9. Kudielka BM, Federenko IS, Hellhammer DH, Wüst S. Morningness and eveningness: The free cortisol rise after awakening in "early birds" and "night owls". Biopsych 2006; 72: 141-146.
10. Scheer FA, Buijs RM. Light affects morning solivary cortisol in humans. J Clin Endocrinol Metab 1999; 84: 3395-8.
11. Neeck G, Federlin K, Graef V, Rusch D, Schmidt KL. Adrenal secretion of cortisol in patients with rheumatoid arthritis. J Rheumatol 1990; 17: 24-29.
12. Griefahn B. The validity of temporal parameters of the daily rythms of melatonin levels as an indicator of morningness. Chronobiol Int 2002; 19: 561-577.
13. Horne JA, Ostberg O. A self-assessment questionnaire to determine morningness-eveningness in human circadian rhythms. J Clin Chronobiol 1976; 4: 97-110.
14. Gerylovová A, Holčík J. Základy statistiky. Brno: Masarykova univerzita v Brně, lékařská fakulta; 1995.
15. Perry MG, Kirwan JR, Jessop DS, Hunt LP. Overnight variations in cortisol, interleukin 6, tumour necrosis factor o and other cytokines in people with rheumatoid arthritis. Ann Rhem Dis 2009; 68: 63-68.
16. Dostál C, Hrnčíř Z. Glukokortikoidy. In: Pavelka K, Rovenský J. Klinická revmatologie. Praha: Galén; 2003: 819-828.
17. Arvidson NG, Gudbjörnsson B, Larsson A, Hällgren R. The timing of glucocorticoid administration in rhemattoid arthritis. Ann Rheum Dis 1997; 56: 17-31.
18. Westhovens R. The importance of chronotherapeutics in the treatment of rheumatoid arthritis. Eur Muskuloskeletal Rev 2010; 5: 9-13.
19. To H, Yoshimatsu H, Tomonari M, Ida H, Tsurumoto T, Tsuji Y. Methotrexate Chronotherapy is Effective Against Rheumatoid Arthritis. Chronobiol In 2011; 28: 267-274.
20. Höschl C. Chronobiologie a léčba deprese. VII. Slovenský psychiatrický zjazd; 2006 Jun 22-24; Jasná pod Chopkom, Slovensko.
21. Rippe O, Madejsky M, Amann A, Ochsner P, Rätsch Ch. Paracelsovo lékařství. Praha: Volvox globator; 2004.
Labels
Dermatology & STDs
Paediatric rheumatology
Rheumatology
---
Article was published in
Czech Rheumatology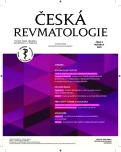 ---
Most read in this issue
This topic is also in:
---